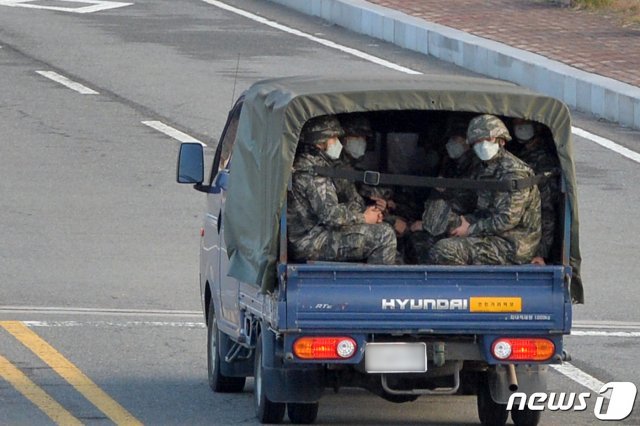 The Marine Corps 1st Division soldiers in Pohang, Gyeongsangbuk-do, are moving wearing masks on the 30th morning when the new coronavirus crisis was raised. 2020.1.30 / News1 © News1

An army soldier who had been to China was admitted to the National Guard Capital Hospital on Thursday afternoon with a fever.
The Ministry of Defense said, "It was confirmed negatively by a test result of a soldier who was hospitalized in the Armed Forces Hospital this afternoon because of the fever symptoms in the army mother unit."
According to the Pentagon, Army A unit unit A traveled to Suzhou in China and returned to the unit last month and was quarantined immediately. The unit had been in charge of Captain A.
Dr. A conducted a test after sampling at the water hospital. As a result, a negative decision was made, but the quarantine measures will be continued considering the incubation period.
Meanwhile, the Ministry of Defense said it was negative for seven soldiers in the same dormitory who had contacted the 12th confirmed patient. As it was confirmed that he boarded the same elevator, a total of eight people were quarantined, including seven soldiers who shared a dormitory.
The unit allowed all soldiers in the entire regiment to wear a mask and forbid moving outside the building.
However, all 8 patients did not show any special symptoms, and Choi Il Byeong received a negative result first.
Nevertheless, the unit is expected to control the leave, outings, overnight stays, and commuting of former soldiers by the 6th. Soldiers on leave are self-contained for up to six days. This is a date that takes into account the 14th incubation period from the 23rd month of last contact.
Choi was negatively assessed, but is isolated from his current National Armistice Hospital until the end of the incubation period. The remaining seven members of the dormitory will continue to remain in the same quarantine area within the ROK Armed Forces Hospital.
(Seoul = News 1)
Source: donga.com