The coronavirus that is spreading in China is a major concern for investors. This was evident at the Monday session.
Stock exchanges on the downside due to concerns about the impact of the virus from China
Stock exchanges in Asia are closed due to celebrations new Year. However, European indexes scored a very downward day. Including the Warsaw one – WIG20 lost almost 3.3%. German DAX ended the day at 2.7%. minus, and the French CAC 40 fell by almost 2.7 percent.
Listing of major stock indexes in Europe, 27 January 2020. Source: investing.com
Indexes overseas also dived. S&P 500 and Dow Jones lost almost 1.6%, Nasdaq almost 1.9%. They lost shares in energy and tourist companies, including airlines.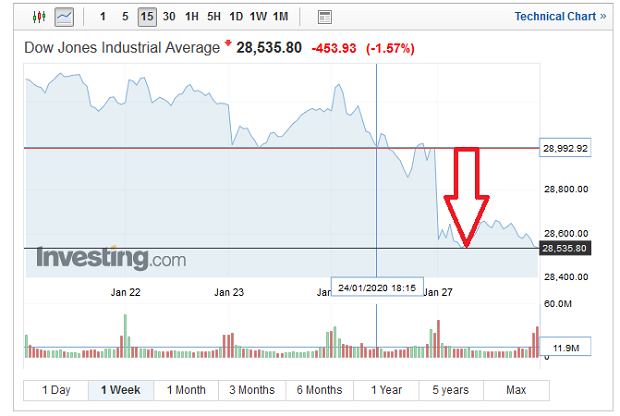 The Dow Jones index lost 450 points at the session on January 27, 2020. Source: investing.com
Investors are afraid that the epidemic of the virus that has already killed over 80 people can hit the Chinese economy. And because it is the second largest economy in the world, it may slow down global growth. Over 40 Chinese cities have been virtually closed – residents are not allowed to leave, it is recommended to stay at home. And this is at a time when millions of Chinese usually travel, enjoying the New Year's holiday.
The risk of a slowdown causes that there are concerns about a lower demand for rOPE oil prices, hence the prices of this raw material were also down on Monday. In the evening, the discount on American oil WTI exceeded 2.5%. The European oil Brent type lost 4%.
Source: next.gazeta.pl