This article was written by ET, a reporter robot specialized in stock market analysis of ThinkPool, an electronic newspaper and financial AI company.
KTB Investment & Securities issued a BUY on Dong-A ST on 170900, stating that the company's earnings are sluggish due to rising R & D costs and its main business is cruising, and the target price is W120,000.
KT Investment & Securities Lee Hye-rin and Kang Ha-young Analysts' BUY opinions on the same stock are based on KTB Investment Securities in just nine months, and remain unchanged from the previous trading opinion. In light of last year's market consensus, we maintain our Buy rating. In comparison with the consensus of the recent securities firms' report released last quarter, the opinions released today converge on the overall opinions, which suggests that the average expectation of the market is expressed objectively.
Looking at the price target, we maintain the same level for a while and then lower our target price. In addition, based on the previous day's closing price, the current price of the same stock is underestimated by 23.7%.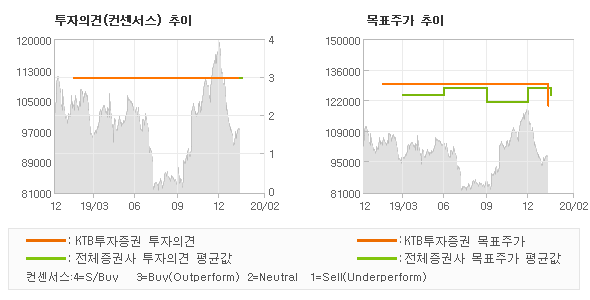 ◆ Report briefing
KTB Investment & Securities Co., Ltd. stated that Dong-A ST (170900) performed poorly in 4Q19, but exceeded estimates due to more-than-expected R & D costs. Analyzed.
In addition, KTB Investment & Securities said, "We estimate separately sales of KRW 6288.2 billion (YOY + 3%), operating profit of KRW 39.5 billion (-31%), and net profit of KRW 31.3 billion (-51%).
Meanwhile, we maintain a BUY rating, but we prefer sub-priority in coverage constraints. We believe the company will likely see significant losses in 20 years on a 19-year high earnings base, reflecting one-off profits. However, the R & D momentum is premature, as the final clinical results need to be confirmed and the pre-clinical entry of DA-4501, which could lead to development milestones other than L / O contracts, is delayed by the end of 2020. "
◆ Report statistics
We maintain our rating for the same year on KTB Investment Securities without any major changes.
The BUY rating and target price of W120,000, announced today at KTB Investment & Securities, are interpreted as a relatively objective expression of the market's expectation, reflecting the overall opinion, and the target is 7.5% below the average. For reference, Samsung Securities, which recently offered the most aggressive target price, has a target price of W149,000 in its BUY rating. Hanyang Securities has a target price of W120,000 for BUY. I have suggested.
(Overview of KTB Investment & Securities)
-2020.02.13 target price 120,000 BUY
-2019.05.07 target price 130,000 BUY
-2019.02.14 target price 130,000 BUY
(All securities firms' latest reports)
-2020.02.13 target price 120,000 BUY KTB Investment & Securities
-2020.01.15 target price 130,000 BUY Kiwoom Securities
-Target price of 149,000 on December 11, 2019 BUY Samsung Securities
12.20.20.20 target 120,000 BUY rating
Stock Market Analysis Specialist Robot ET etbot@etnews.com
Source: etnews.com