Wednesday, 29 January 2020 13:06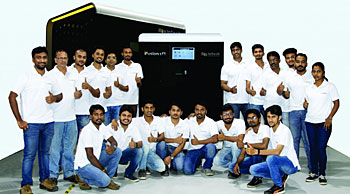 Intech Additive Solutions, a manufacturer of direct laser sintering systems (DMLS) based in Bangalore, presented its latest line of 3D printers at the IMTEX 2020 metal forming exhibition in India. The new iFusion series of metal 3D printers, formerly called Intech DMLS, consists of selective laser melting (SLM) systems – iFusion SF1 and iFusion LFMulti. Designed for high accuracy, stability, reliability, and unparalleled performance at higher print speeds. The iFusion range includes both large and small systems whose technical specifications and prices have not yet been published.
However, the company states that iFusion SF1 is a smaller format machine designed for R&D laboratories and academic institutions. IFusion LFMulti is a larger format multi-laser machine designed for manufacturing industrial components. The machines are the culmination of more than 30,000 hours of research, development and innovation over the last 36 months. Over 800 parts have been printed in 3D for a variety of industries from a variety of materials. Together with the internally developed AMOptoMet software and the upcoming AMBuilder, the manufacturer aims to create a full-fledged ecosystem supporting the industrialization of additive manufacturing in India.
Source: cad.cz