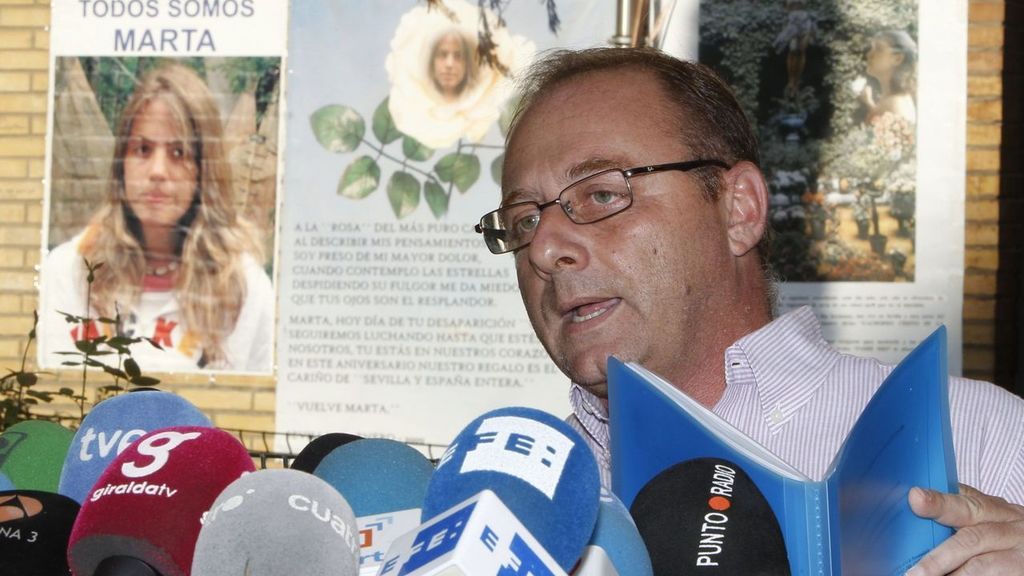 They have asked the judge to reopen the case against Carcaño's brother
Antonio del Castillo, father of Marta Del Castillo, The young woman killed on the night of January 24-25, 2009 on a floor of the León XIII street in Seville and whose body still does not appear, he believes he has discovered the true motive behind the crime.
In a recent brief filed before the court that leads this investigation, it has claimed that the cause for murder against Francisco Javier Delgado, brother of Miguel Carcaño, which was filed in May 2013.
As reported Seville newspaper, on that occasion, the accusation on Delgado was filed despite Carcaño accusing him of killing Marta with two blows with the butt of a gun, after a strong discussion for economic reasons.
These economic reasons are those that Antonio del Castillo believes he has discovered that assures that those involved would have tried to avoid the discovery of an extensive network dedicated to scam and documentary falsehood in which not only the two brothers but also third parties would be involved.
According to this medium, Marta's father would have had access to the mortgage documentation through which Francisco Javier Delgado and Miguel Carcaño obtained the loan to buy the house of León XIII where the events occurred.
They assure that the documents on which the mortgage was granted were falsified since Francisco Javier never worked in the bar "The Less Two Degrees" of La Rinconada.
On January 23, Antonio del Castillo complained that eleven years later those responsible for the death of their daughter "be acquitted"However, he warned them that "they are not neglected, that in these years we have not stopped and we have new data: we know clearly how Marta died, why, at what time and by whom".
In a post on his Facebook wall Marta's father remembered the anniversary of the young woman's death and that the murderer confessed Miguel Carcaño continues in prison in the prison of Herrera de la Mancha, as well as those acquitted, referring to Carcaño's brother, Javier Delgado, his girlfriend, and Samuel Benítez, are on the street for a sentence, in his opinion, "totally dictated politically by politicians of the time of the defendants lately."
"That are not neglected, in these years we have not stopped new data there and we know clearly how Marta died, why, at what time and by whom, "insisted del Castillo.
In this regard, he stressed that "when this documentation enters the courts there will be leaks and we will all know", while ensuring that he does not write this "with pain, but with rage" especially because these new data "The family has discovered it with the help of other people and not precisely police."
Some data, he noted, that were "easy to discover only with interest". In the same publication, he says he does not want to write anything sentimental in the reminder of this date. "Anger prevents me from opening my heart," he concluded.
For these facts Miguel Carcaño was sentenced to 21 years and three months in jail for the murder of the young Marta del Castillo, while 'El Cuco' was done by a juvenile court being less than two years and eleven months for cover-up.
Last year at this time, more than 3,000 people toured the main roads in the city center in a demonstration to remember the young woman and demand "justice" and the repetition of the trial when the family considered that "there are guilty people released."
Source: telecinco.es