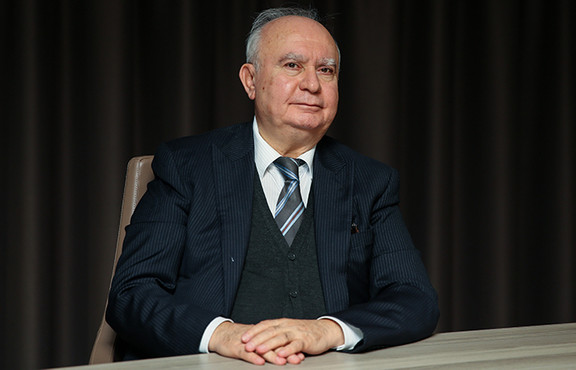 Netlog Logistics Board Chairman Şahap Çak said that 2019 was a troubled year and there was a contraction in international trade. Explaining that they operate in 5 different countries abroad including Belgium, Holland, America, England and Dubai, Çak stated that 40 percent of their operations were carried out abroad.
Age, they have 72 stores, it's 32 of abroad, while the rest transferring is in Turkey, "Store of our normal period of 7 thousand 500 people in Turkey, working 12 thousand people, including overseas person over 4 thousand. As Black Friday In busy periods, our number of employees can reach 16 thousand by employing 4 thousand additional jobs. " he spoke.
Mentioning that foreign activities have a significant contribution to their budgets, Çak said:
"Last year, our turnover approached the level of 1 billion dollars. For 2020, we aim to increase our budget by 25 percent and real growth by 13 percent in real terms. Our companies abroad also set a target of 12 percent growth based on euro. We planned to achieve a turnover of 400 million dollars. We have invested 20 million lira in warehouse equipment, and we spend 25-30 million lira in the field of information technology every year.
We bought a land in Antalya in early December of 2019. We will make this the biggest logistics center of Antalya. The total investment we will make here will be approximately 70 million liras. We also made the first big fleet investment of 2020 in the sector recently. We will continue our investments in this area throughout the year. When we evaluate vehicle, warehouse and technology investments together, the size of the investments we will make together with abroad will reach 500 million lira in 2020. This amount does not include Turkey or abroad will make the purchase. "
In the last 4 years, we found among Turkey's 10 largest services exporter, reminding that they received the first prize in the freight forwarding and logistics category in last month's Age, said last year foreign operations rising to $ 600 million contribution to the budget.
Age transferring future they envisage to contribute $ 1 billion over two years, Turkey's export, that there are substantial foreign currency earnings, so stressed that they have a natural hedge source.
"We are working on the electric distribution vehicle with an investment of 5 million dollars"
Şahap Çak informed that they have an attempt to produce electric vehicles for use in logistics distribution in e-commerce, and that they have not launched since they are still in the testing phase and they expect the process to be completed within 2 months.
Stating that they will start the said vehicle in developed markets where e-commerce is at a higher level in the first place, Çak said:
"Electric vehicle our local and national. The whole project was carried out by Turkish engineers in Turkey. Application evaluated our Dutch institutions to receive the car's technical compliance certificate. We think we can get results like the end of February. From now until the hiring company sources have made a $ 5 million investment. This We anticipate that our test production for the year will be 2 thousand, 6 thousand in 2021 and 12 thousand in 2022. Another investment of the electric vehicle family designed by the world-famous Hexagon company. We did not make this investment through Netlog. there may be a situation like transferring it. "
"Our tourism revenues should be multiplied"
Şahap Çak stated that the reflections of the measures and incentives taken last year were positive and drew attention to the importance of its sustainability.
This year he thinks the future of a significant transfer of resources to Turkey Age, he said:
"Turkey in the future important to use these resources correctly. Turkey's potential is normally very very over the current level. Success of this will be caught scope of services exports actually open the way for reaching the next destination of Turkey. The size of the 2019 volume of exports caused by service exporters about 60 billion dollars, but for example the income from tourism does not reflect our potential.
Tourism facilities in Turkey and places that do not have much in the world but our prices are very cheap. A price as cheap as us does not exist in the world. Our price should not be cheaper than Greece. Prices in us have to be multiplied. We close hotels in winter. Why would it close? You can not earn money by working only 5 months. Conferences should be held and winter tourism should be revived. We need to take strategic actions on these issues and work to improve the country's overall perception abroad. "
Today, it found that around 45 percent of Turkey's tourism annual handling capacity of 50 million the number of tourists coming to Turkey last year, reported that exceeded the $ 30 billion in tourism revenues.
In Europe an average hotel price per night 150 euros, no pointing Age, "this figure comes to 250 euros with you drink you eat. Our these figures means we go to the tourism income in Turkey is meant to reach 65-70 billion dollars. 45 per cent over that which When we increase our capacity utilization rate to 60 percent, this number is approaching 100 billion dollars. We have such a great potential but we cannot use it yet. " used expressions.
"2020 will be better"
Shahab Age, to be more aggressive targets in Turkey and stated that he should be the target of advancing arm in arm with eastern administrator.
This year, in the presumption that now better than 2019 Age, "in 2019 on the measures taken positive the results also turned Turkey's growth to positive. So we spend a bad year. We will be better in 2020, it is stated, we ourselves towards their reviews we feel more energetic and safe. " said.
Age, Turkey's dynamics and potential of his speech noting that the country has a very high continued:
"Our If the internal dynamics of our directed toward instability unless Turkey already grow 4-5 percent annually. External developments remain outside of us currency at these levels not experienced the developing events. I'm not in favor of granting credit, not the right to grow with loans. In order to support the expenditure channel loans are not made permanent growth. I think that instead I should be made of the reforms. Therefore, the issuance of very rapid investment incentives in Turkey, we need to increase the investment in the foot. in 7 regions of Turkey, if necessary, although done, the investment needs have to be implemented. in Turkey There is now the name of the incentive, not itself, because it is not applicable. "
Mentioning the importance of exporting value-added products, Çak added that technological investments and structural transformations should be made to increase this.
Source: dunya.com