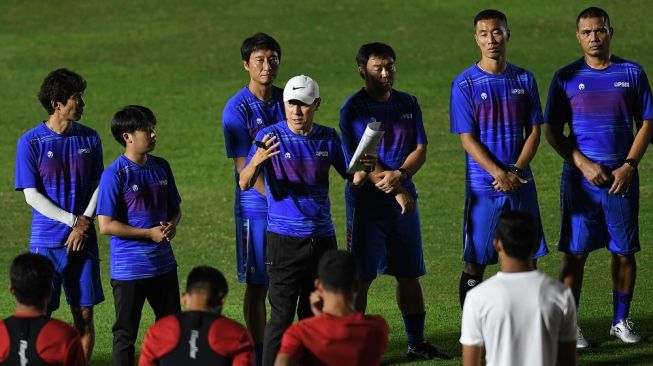 <! -
->
– The figure of Indra Sjafri was not seen during the inaugural practice of the Indonesian National Team with head coach Shin Tae-yong, which was held at the Madya Stadium, Senayan, Jakarta, Friday (02/14/2020) night.
When asked where Indra Sjafri, who served as the assistant coach of the Indonesian national team, Shin Tae-yong remained in a thousand languages. Yes, it is unknown where the West Sumatra coach went.
When leading the Indonesian national team training session last night, Shin Tae-yong was only escorted by assistants and coaching staff, namely Nova Arianto, Sahari Gultom, Gong Oh-kyun, Kim Hae-woon, and Lee Jae-hong.
Previously, rumors arose that Indra Sjafri had withdrawn from the Indonesian National Team's coaching staff, even though he had just served as an assistant to the senior team coach in the Shin Tae-yong regime.
However, Indra finally denied the rumors that were increasingly confused.
"I was unable to attend because I was carrying out the duties of PSSI. The problem was that I would join the team, later if the tasks of PSSI were completed," Indra Sjafri said when contacted by reporters.
"It is not true that I left the coaching team. I have a four-year contract at PSSI. I am currently on PSSI assignments," he said.
As is known, the Indonesian Senior National Team is now holding a training camp. Training camp this will take place until February 23rd.
Source: suara.com