Many citizens try to know the value of the electricity bill for February 2020, especially after the service announced by the Egyptian Ministry of Electricity, which is to inquire about electricity bills from the official website designated for that of the Ministry of Electricity and Renewable Energy via the Internet.
The customer or citizen chooses the company affiliated to the governorate in which he resides, after which the citizen selects the branch that he belongs to, then he writes his personal data in the boxes designated for that, which are often in his electricity receipt.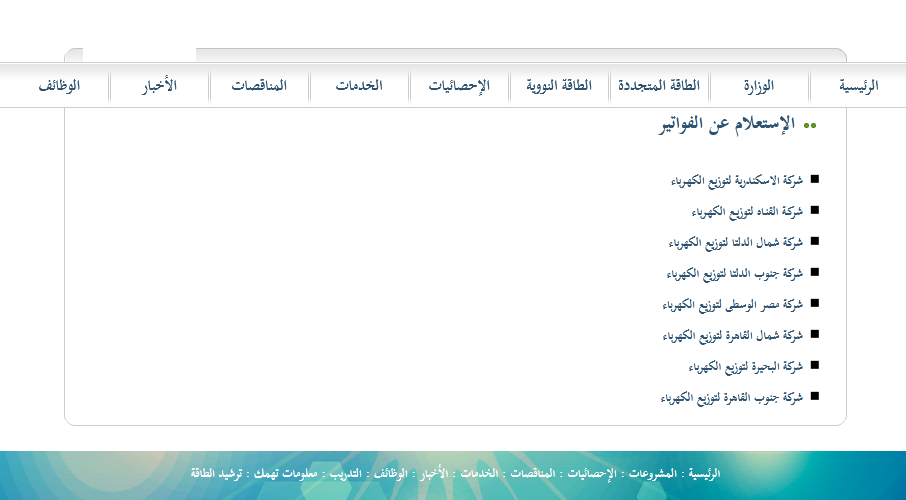 The citizen tries to get to know the electricity bill before the arrival of the collector in order to prepare to pay the required amount from him in order to avoid the occurrence of financial problems, trying to manage the amount monthly so that the electricity will not be cut off.
The Ministry of Electricity is keen to provide many electronic services to Egyptian citizens during this period, including inquiring about the electricity bill, receiving complaints, and reporting meter reading through the official website of the ministry on the Internet to prevent mistakes.
And the Egyptian customer can now recognize the value of the bill from the internet before cutting the service long enough so that he can pay it on time.
The first step: the customer enters through the link next one
The second step: the citizen chooses its governorate or company.
The third step: writing the personal data on his receipt, after which the customer can know the value of his invoice and pay it.
The Ministry of Electricity has warned all citizens of replacements and renewals of homes without telling the ministry, as they fall under the jurisdiction of the law, and it is possible that the contract can be canceled without any warning or warning to the customer, so I have provided three important steps for all citizens, you can get to know the details through the link
Source: misr5.com