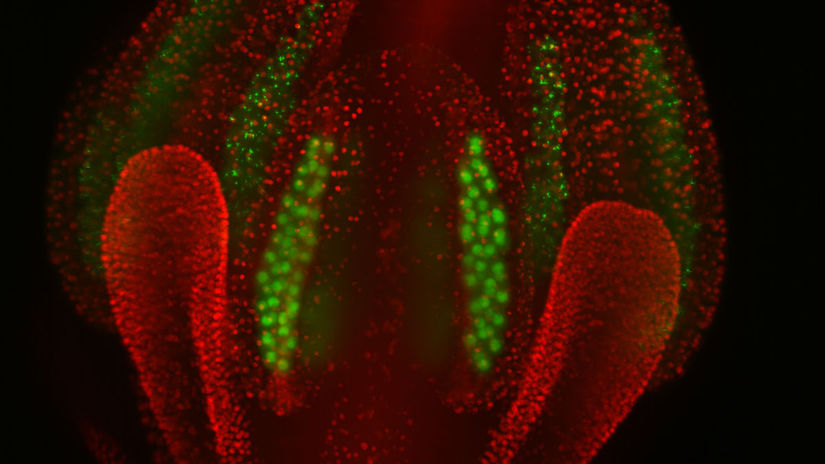 Ongoing meiosis in living flower. (Red is the nuclei of all rod and piston cells. Green is the cell nucleus of future pollen grains.)

Using a completely new way, they use modern microscopic technologies to show, for the first time, the development of an egg in the plant's piston or to observe the development of pollen cells.
Breakthrough technology that enables real-time tracking
cell processes leading to plant reproduction, were developed by researchers from Institute
CEITEC Masaryk University (MU). Results of team work under
Karel Říha published e-Life magazine.
"Our method has opened up entirely new possibilities for reproduction research
plants. It is not only thanks to this know-how that we can study in detail at
molecular level processes that are key to plant reproduction,
but in addition, we can test how plant reproduction works, for example
elevated temperature, which is particularly relevant in the context of climate change
topic, "said Karel Říha.
Nowadays, biologists study the sexual life of plants
mainly with the help of cytological and genetic methods, mainly
on dead cells. Follow the dynamics of the process in live flowers
genes, embryos of plants and the formation of grains or fruits, but so far
it was not possible.
To monitor the development of sex cells of plants that are in flowers
enclosed inside the lungs and pistons, used by Říha and his three colleagues –
Pavlína Mikulková, Soňa Valuchová and Jana Pečinková – modern
a microscopic method that glows the object under examination very thin
laser beam. They had to develop procedures that allowed them to use this
technology in a whole new way. "Thanks to the created know-how and the team
with the necessary knowledge and experience we can develop our own
research topics and also offer assistance to other scientific groups that
they are already turning to us, "said Říha.
In order to have a better insight into the process of plant reproduction, they had to
learn to work with flowers around 0.2 millimeters, find a suitable one
a culture solution to keep them alive for several days
during this time, the microscope will run smoothly and also create lines
plants with built-in fluorescent labels, thanks to which they can
to monitor specific cells or their parts by microscope.
The observation results in videos showing the exact sequence of events
in the cells of the flower. Those skilled in the art can look at individual layers of the flower
as captured by a microscope, or combined to form a three-dimensional
flower structure. It is helped by special software that allows
manipulate large volumes of measurement data.
Karel Říha's team from CEITEC MU focuses on study
plant meiosis, a process in which cells divide; and
reducing the number of chromosomes as preparation for genetic delivery
information descendants.
Source: Masaryk University Brno
Source: vat.pravda.sk