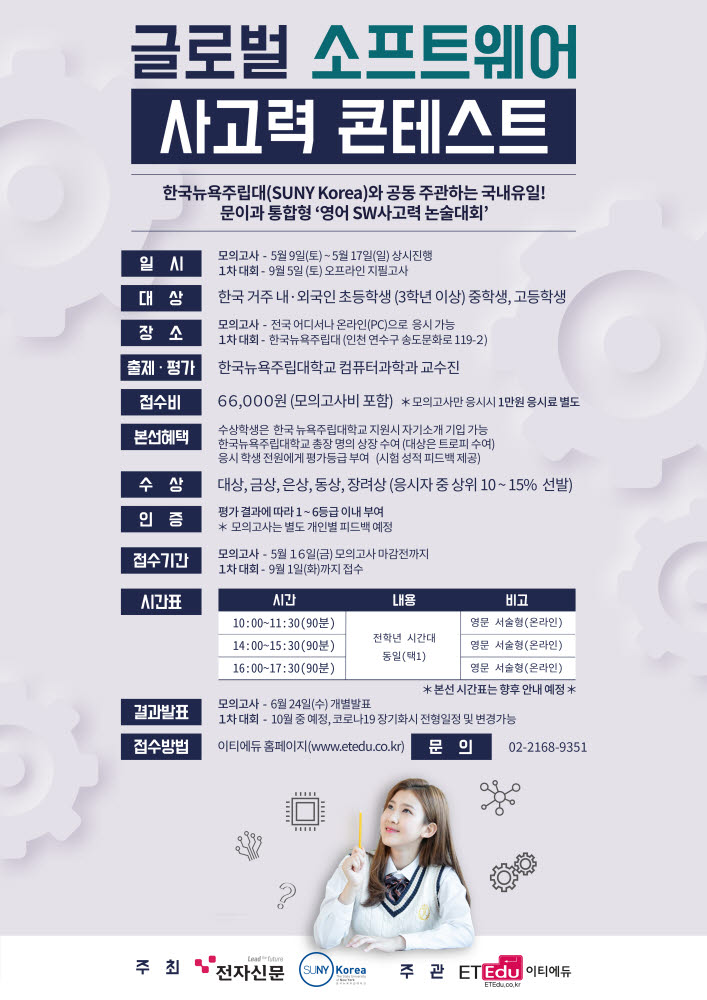 The online test of the Global Software Thinking Contest (G-SWTC), held jointly by Electronic Newspaper and the New York State University of Korea on May 9, will be converted into a mock test.
Initially, it was scheduled to be held as the first online test, but it is held as a simulated test, not an actual test, based on the judgment of the G-SWTC Advisory Committee that there is a limit to completely eliminate cheating.
The mock exams can be taken at any time from May 9 to 17 from 10 to 11:30, 14 to 15:30 and 16 to 17:30. All test times are the same for 90 minutes.
Online mock exams can be accessed by logging in to the ITT homepage and clicking Enter in the 'G-SWTC mock exams' pop-up window. You can log in by entering the exam number and name given at the time of application. Write your answer in the answer-by-question space and click the submit button at the bottom when you're done. It is automatically saved every 20 seconds, and an answer written automatically is submitted after 90 minutes of testing. The results of the mock test will be notified individually to students by mid-June.
The actual 1st competition will be held offline on September 5th at the New York State University campus in Songdo, Korea. Anyone can apply regardless of the mock exam. Students who have submitted together until the finals can participate in the 1st competition regardless of the results of the mock test. On the 5th of September, the top 15% of the test takers will be selected and won the Grand Prize, Gold, Silver, and bronze prizes.
We apologize for any confusion to the receptionist and parents. We appreciate your interest.
○ Event name: Global Software Thinking Contest (G-SWTC) Mock Test and 1st Competition
○ Date: Mock test (online)-May 9 (Sat) ~ May 17 (Sun)
1st Tournament (Offline)-September 5th (Sat)
○ Time: Mock exam (online) 10: 00 ~ 11: 30, 14: 00 ~ 15: 30, 16: 00 ~ 17: 30
1st competition (offline) elementary school students (10: 00 ~ 11: 30), junior high school students (14: 00 ~ 15: 30),
High school students (16: 00 ~ 17: 30)
○ Place: Mock exam (online)-Connect to ITU Edu homepage (click on ETI Edu in search bar)
1st Tournament (Offline)-Korea University of New York (119-2 Songdo Munhwa-ro, Yeonsu-gu, Incheon)
Source: etnews.com