Neglect management
No obligation to share information with local governments
Construction Method-Operation Chart
Supervision system integration-budget must be secured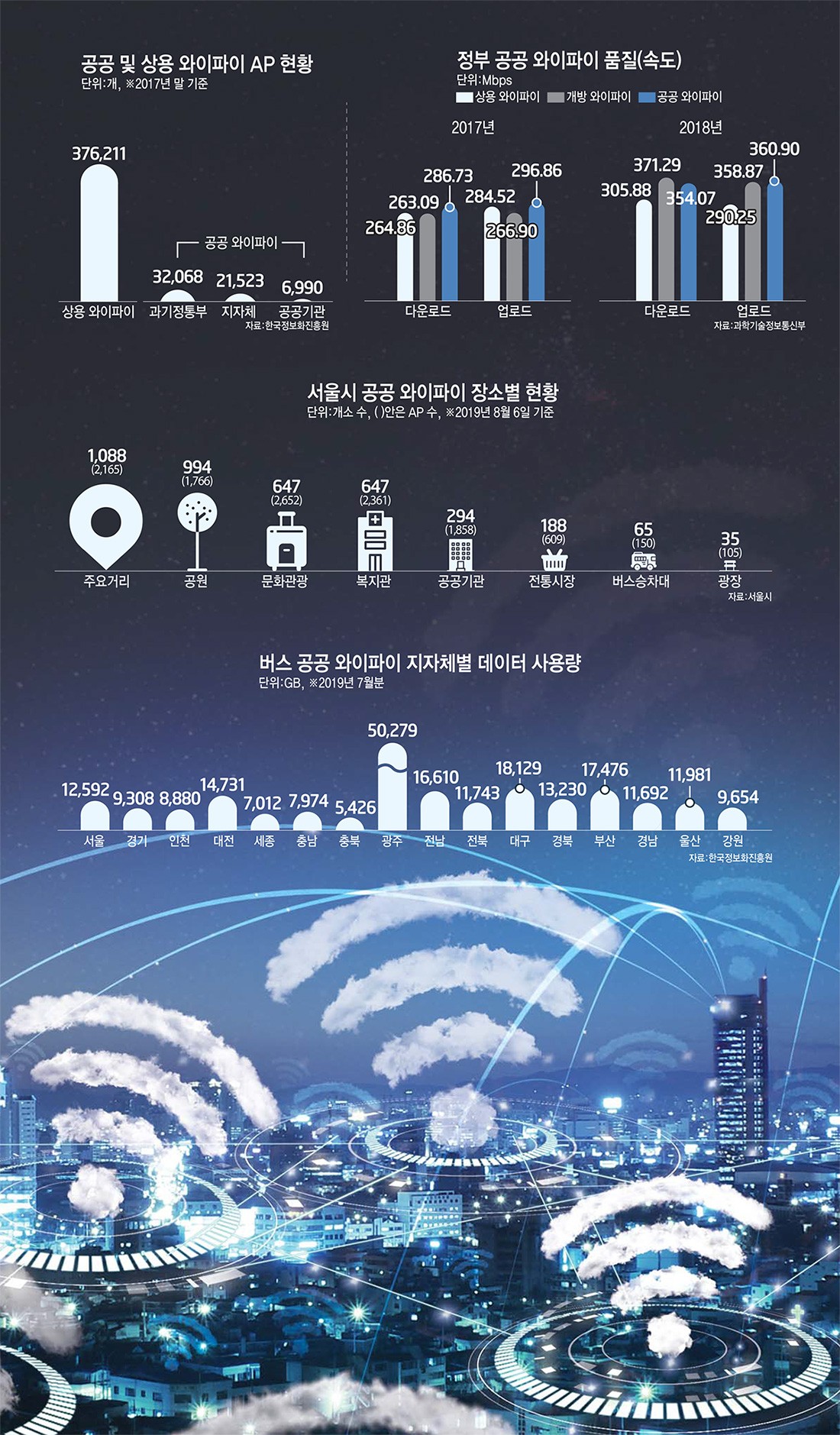 Building governance to manage public Wi-Fi scattered across the country is essential to increase the efficiency and stability of the operation of the national infrastructure. The government and local governments continued to increase public Wi-Fi construction. Despite the quantitative expansion, it was also pointed out that the management of responsibilities was insufficient.
The main point is that it is time to seek a paradigm shift focusing on public Wi-Fi 'management'.
A large-scale public Wi-Fi construction project is planned for local governments without properly managing the existing Wi-Fi. Political power is also on the rise.
If proper governance is not secured, there is concern about redundant investment and waste of budget due to inefficiency. Based on the understanding of objective conditions and expert research, securing a proper integrated management system has emerged as an essential task.
◇ Public Wi-Fi is difficult … Redundant investment concerns
According to the National Assembly Legislative Survey, there were 6,581 public WiFi APs as of 2017. The Ministry of Science and Technology established 3,068, the municipalities by 2,1523, and public institutions by 6,990. This is the figure that grasped the case of the construction of the central and regional governments that the Ministry of Science and Technology conducted as a project under the supervision. There is no obligation to share information about the status of local governments' individual and local construction. It is questionable whether it is systematically managed.
The construction method is different. In the case of Seoul City, it was found that 5,900 APs were built as its own business until last year. The Seoul Metropolitan Government used a method of connecting a Wi-Fi router (AP) to a private network built for closed circuit TV (CCTV), etc., or renting a line from a telecommunications company and paying for the usage fee. From this year, it will be fully constructed with its own network.
In the case of Guro-gu, 621 APs were built as its own business, 85 leased the carrier lines and the rest were connected to the private network. The construction method can be varied according to the local government situation. However, there was no information sharing between the manual and the government and local governments, so it was pointed out that not only accurate data could not be grasped, but also consistent management was not achieved.
Regarding the operation of public Wi-Fi, communication quality and security level vary by region. This is because the exact security authentication system performance requirements are not unified.
It is also difficult to secure business continuity. This is because the project may be contracted depending on the policy goals at a specific time, the situation of each local government, and the will of the local government. Public Wi-Fi is often used as a pledge of good faith. As a result, there is no concern about duplicate investment when installing new public Wi-Fi without sharing information.
◇ Go through a public Wi-Fi and management-oriented paradigm
Public Wi-Fi is a national infrastructure made with a budget worth hundreds of billions of won. Public Wi-Fi, estimated at 100,000 nationwide, is the world's largest. If you focused on building before, now is the time to think about how to use it properly.
The policy competency should be focused on the 'management' of public Wi-Fi, and at least the integrated Wi-Fi measures should be taken at the infrastructure and governance level so that even the public Wi-Fi, which will be newly constructed, will not be operated as a central heating.
In this regard, the Ministry of Science and Technology has secured the basic infrastructure to manage public Wi-Fi scattered across the country. The National Information Society Agency (NIA) established a public Wi-Fi integrated control center in Pangyo, Gyeonggi-do. The integrated control center has the capability to track the status of public Wi-Fi use and whether there are any obstacles in real time. In addition to remotely monitoring the AP status, it also calculates meaningful statistical data based on the collected AP data. Wi-Fi authentication and security-related support projects are also under way.
However, communication infrastructure alone is not enough. The integrated control center was limitedly managed by the government and some local governments, and it was pointed out that the legal basis and budget system were weak.
It is essential to establish governance as a comprehensive management system and institutional infrastructure in which various responsible organizations related to public Wi-Fi, such as the government, local governments, public institutions, and the private sector, participate.
The Ministry of Science and Technology must hurry to discuss governance, such as the 'Public Wi-Fi Committee', which has secured legal authority, or the 'Public Wi-Fi Council', which is formed in a voluntary form, starting with a public Wi-Fi survey.
Through governance, it is expected that long-term and systematic planning will be possible, starting with basic consultations on the state of public Wi-Fi, operation, and securing budget. It clarifies responsibilities such as handling and maintenance of lost public Wi-Fi APs, and prevents wasted tax due to redundant investment.
◇ It is necessary to secure a budget for stable public welfare
It is important to support the budget as much as the infrastructure. Maintenance is one of the most important tasks in the public Wi-Fi business, but the budget is focused only on AP construction. Maintenance and repair are actually entrusted to the carrier.
Public Wi-Fi projects are conducted in the form of a bid or an agreement between the government and carriers. In the case of agreement, the carrier is responsible for maintenance and repair. It is pointed out that it is difficult to expect proper management because it is a structure that only pays for it. The supervisory system should be inspected and established with the intention of expanding the management budget.
Government-level budgets, manpower and information support for local governments lacking expertise are also needed. In order to improve public Wi-Fi service quality and user convenience, we must also develop Wi-Fi technology.
A communication expert said, "Public Wi-Fi should be able to realize the policy objectives of reducing communication costs, improving information accessibility, and bridging the information gap between vulnerable groups. Securing is essential. "
By Choi Jong-hee, staff choijh@etnews.com
Source: etnews.com