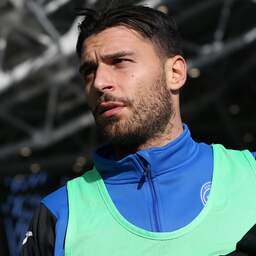 A player from Atalanta also tested positive for the corona virus on Tuesday. The 27-year-old Italian reserve goalkeeper Marco Sportiello has been diagnosed with the virus.
Atalanta says that Sportiello is not showing any symptoms at this time. He must be in home isolation for a fortnight.
The players of Atalanta, including Marten de Roon and Hans Hateboer, have not been outside for some time because Bergamo in Italy is the province with the most confirmed infections (6,728).
Sportiello is the fifteenth player diagnosed with the coronavirus. Earlier this already applied to the Juventus trio Paulo Dybala, Blaise Matuidi and Daniele Rugani.
Atalanta-Valencia disastrous for distribution
According to several doctors in Italy, last month's Champions League game between Atalanta and Valencia (4-1) in Milan was one of the main causes of the high number of infections.
Valencia announced last week that since the trip to Italy, more than a third of the players and support staff have tested positive for the COVID-19 virus.
All European top competitions have now been stopped due to the corona virus. Serie A continues on April 3 at the earliest and La Liga only when there is "no health risk left".
Follow the latest developments around the virus in the sports world in us live blog.
The coronavirus in short
The coronavirus mainly spreads from person to person via sneezing and cough drops. The chance of becoming infected through surfaces such as door handles is small. This chance decreases if you wash your hands often.

You can considerably reduce the chance of spreading by keeping at least 1.5 meters away from others.

An infected person infects two to three others on average. Precautions are necessary to contain this.

The vast majority of patients have mild (flu-like) complaints.

Almost all deaths involve the elderly or other vulnerable persons, such as heart, lung or diabetes patients. If everyone complies with the measures, this reduces their risks.

Read here what precautions you should take.
Source: nu.nl