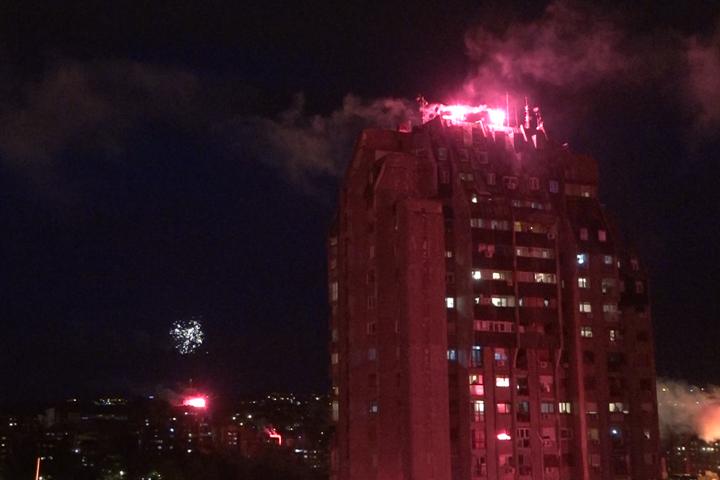 Tonight, in addition to the applause at 8, the sherpa at 8.05, we had at half past nine torches and "music" from the announcements in Serbia.
SNS MP Vladimir Djukanovic urged citizens in the Serbian Parliament today to "answer the Sherpas" at 8.30. Incidentally or not, a torch was made at Banjica where Djukanovic lives.
And here is MP Djukanovic with a torch and "music" from the announcement.
According to the Novi Sad citizens, there were also announcements of fan messages sent to Dragan Djilas.
The combination of the two was in Zemun as well.
Here's what Zemun fans did. Mercenaries Vucic pic.twitter.com/yGAJAXTFTD

– Kokni Kol (@PapuceGucci) April 29, 2020
How they report Southern news, during a torch from the terrace of an apartment of one of the officials of Nis' s Serbian Progressive Party, there was almost a fire on Sombor Boulevard in Niš after the flares were dropped on an awning on the ground floor of a building.
At 8.05 it was like the previous days. This was the case at Banjica, for example.
Stepa 20.05 pic.twitter.com/ewBHdJOBmO

– Branimir Lazic (@VozdVet) April 29, 2020
Not many of us … we are disgusted but we hear each other … Old Town near Kay Maxim Gorky I Novi Sad #BukomProtivDictatorships and louder every night !!! pic.twitter.com/uOm3zfhjyF

– Biljana MK (@ BiljanaMK1) April 29, 2020
New Belgrade 💪 @nedavimobgd pic.twitter.com/jDee4DUuWn

– Aleksandra Petkovic (@ petkoviceva1) April 29, 2020
Source: BIZLife
Photo: BIZLife


Source: bizlife.rs