Reporting: As part of preparing to deal with the Corona's economic repercussions, the Catalan club asked its players to forgo a ton of money and they responded with amazement, with some even threatening to break the contract. And also: Delaney is angry and may leave
Already on Friday it was reported that the President of Barcelona intends to ask the team players to cut their wages to deal with the economic consequences of the Corona crisis, but this is not only valid for the football team. Mondo Deportivo announced Tuesday that the Catalan basketball team's professional manager, Nacho Rodrigues, has met with captains Anta Tomich and Pierre Oriola to hand over the club's offer – a cut of no less than 70 percent of their salary by the end of the season .
Although in the event of the industry returning to activity, players were promised that they would receive their full salary and the proposal in question allows them to earn more than the € 1,400 they would receive in the event of contract delays subject to employment conditions in Spain, but as soon as Tumwich and Oriola conveyed their message to their members in the team Accepted the club's request with amazement and reportedly some even threatened to break his existing contract.
The club's management did not provide Barca basketball players with too much time to consider the proposal, as it asked them to return today, so that they could plan as soon as possible the necessary moves in light of the financial difficulties the club is facing.
Meanwhile, it was also reported that Malcolm Delaney's future, which left Spain for the United States a few days ago, is questionable. Both sides have an option to extend the agreement to June 30 for another season, but the coordinator was angry at the club's attitude, which initially refused to hand over his passport so he could return to his country.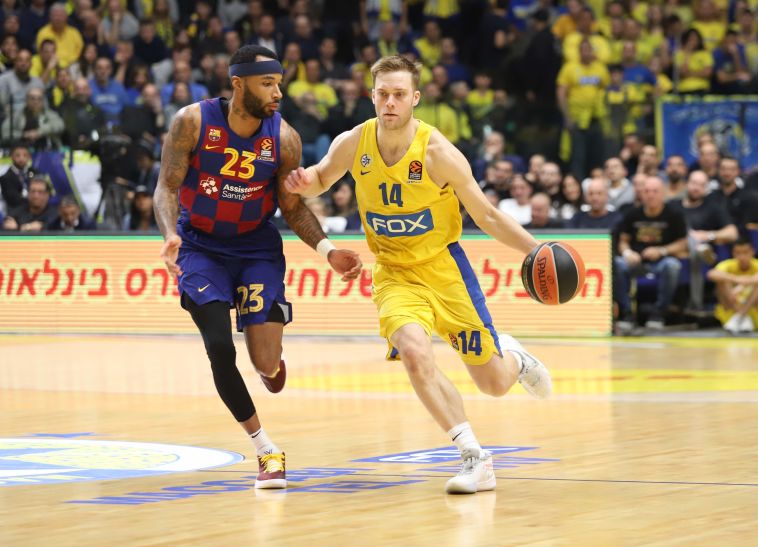 Delaney vs. Maccabi Tel Aviv. Will leave in the summer? (Adi Avishai)
Source: maariv.co.il