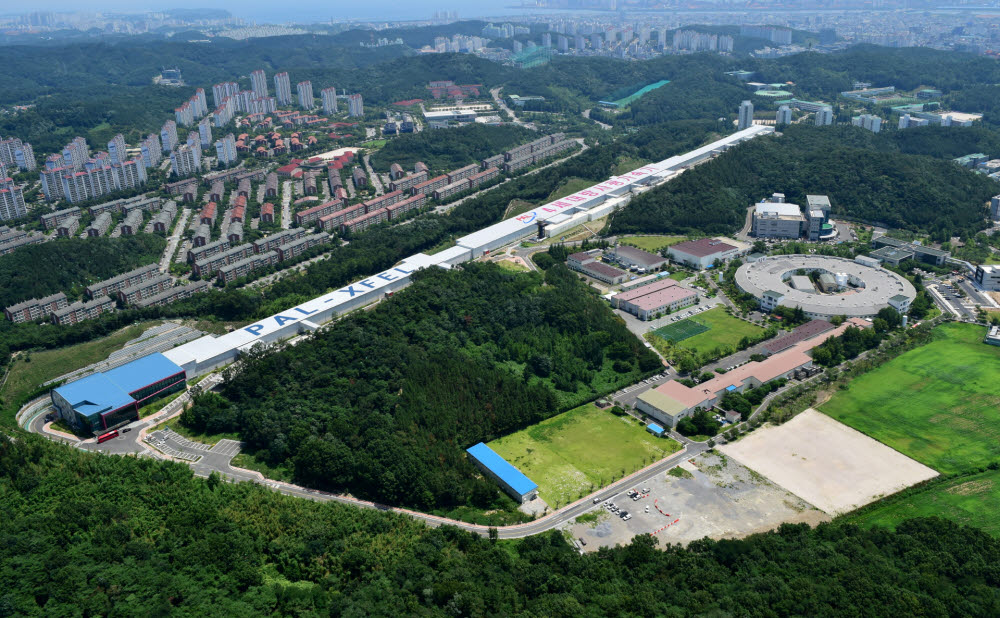 The multi-purpose radiation light accelerator construction project begins on site selection and goes up to the main track. It is a large-scale project worth 1 trillion won, and many local governments are expected to face fierce competition.
The Ministry of Science and ICT starts the business for building a new radiation light accelerator on the 27th.
It plans to select a site for multi-purpose radiation light accelerators through competition for metropolitan and provincial governments nationwide. At the end of this month, after the business briefing for local governments, the invitation plan will be submitted with a one-month deadline.
An independent selection and evaluation committee is formed as an expert, and evaluation plans for local governments including site suitability are finalized in May. Next, the preliminary feasibility study will be promoted, and as soon as possible, the detailed design will start next year and the project will be launched.
It is expected that each province will be fierce. Currently, Chungbuk, Jeonnam, Gyeongbuk, Incheon, and Wonju cities are expected to attract radiation accelerators as the focus of this year. Established a plan to operate radiation light accelerators in connection with regional base institutions and universities. The strategy is to revitalize the local economy and upgrade to future and high-tech industrial bases by attracting projects with total project cost of more than 1 trillion won, including facility construction and site purchase.
Chungbuk has signed a joint invitation agreement with the Chungcheong area and is expanding its support base for universities, research institutes, and companies. Considering the fact that the radiation accelerator is highly industrial, it is planned to build a new industrial innovation belt connecting Icheon, Cheonan, and Daejeon.
This year, Jeonnam promoted the feasibility study following the establishment of an advisory group related to the construction of a radiation light accelerator as a key task for the city. It is planned to build around 1.5 km in circumference at the research institute and cluster site near KEPCO. It has formed a consortium of attracting services with KEPCO, Korea Atomic Energy Research Institute, Gwangju Institute of Science and Technology (GIST), and Chonnam National University.
Gyeongbuk, in cooperation with Pohang City and POSTECH, selected a candidate site of 100,000 square meters near the existing 3rd and 4th generation accelerators in POSTECH. The goal is to create synergy by building the world's only 'accelerator cluster' that encompasses Pohang 3rd and 4th generation radiation accelerators and Gyeongju's proton accelerators.
Incheon City selected the second stage site of Yonsei University International Campus Science Park in Songdo International City, a free economic zone, and Chuncheon City entered into a pre-existing bidding ceremony with the Gangwon-do and Gangwon National University's 'Agreement to attract Chuncheon Radiation Accelerator'. In addition, Gwangju City, etc. has also announced its intention to attract.
The emitted light accelerator accelerates electrons at the speed of light to produce powerful yet diverse light. Extreme ultraviolet (EUV), X-rays, etc. can be applied to the material to understand its structure or characteristics. Major foreign countries have been leading the basic and source research by using the radiation accelerator. Recently, it has been used in high-tech industries such as semiconductors and new drugs to create results.
Tamiflu is the result of protein structural analysis using Stanford University's Radiation Accelerator (SSRL). TSMC is in the process of conducting semiconductor research and development (R & D) using more than 1000 hours of radiation beam accelerator beamlines per year.
In Korea, radiation light accelerators have been built and used in Pohang, but demand for new capacity has been continuously raised due to increased demand.
The demand and supply acceptance rate based on the research project using domestic radiation accelerator is 70% (1.4: 1), which is similar to that of other major overseas countries. It is pointed out that the current infrastructure is limited in meeting the growing demand for high-tech industries.
Minister of Science and Technology Choi Ki-young said, "I expect that the selection and evaluation committee will lay the foundation for the business through fair evaluation." Stressed.
Staff Reporter Choi, snoop@etnews.com
Source: etnews.com