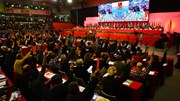 The CGTP socialist union chain announced this Friday that it will present Fernando Gomes as candidate for secretary-general of the inter-union, considering that the candidate proposed by the executive committee, Isabel Camarinha, "raises serious concerns" for her approach to the PCP. " The rationale for this decision by the socialist unionists is eminently political-union ", affirms in a statement the socialist current of the CGTP, which proposes the name of Fernando Gomes as leader of the union central.
As they argue, "the well-known and assumed militancy of Isabel Camarinha in the PCP union chain raises serious concerns that, with her election, CGTP-IN will be even closer to the PCP".
Until now, Isabel Camarinha was the only candidate for the position of secretary general of the union central, proposed by the current executive committee, to replace Arménio Carlos.
The elections take place this evening, after the conclusion of the work of the 14th CGTP congress, which ends on Saturday, in Seixal, Setúbal district.
CGTP socialists argue that the inter-union should "broaden its base of implantation with more unionization and reinforcement of the organization".
"This strategy implies that CGTP-IN's union independence from the parties and the practices of unity and democracy are increasingly effective and deepened", underline the union members.
Socialists claim that Fernando Gomes "is an experienced trade unionist", recalling that he has been a member of the National Council since 1999 and of the executive committee since 2001.
Fernando Gomes is a member of the board of the Southern Hotel, Tourism, Catering and Similar Workers 'Union and coordinator of the Pestana Pousadas Group Workers' Committee.
Source: jornaldenegocios.pt