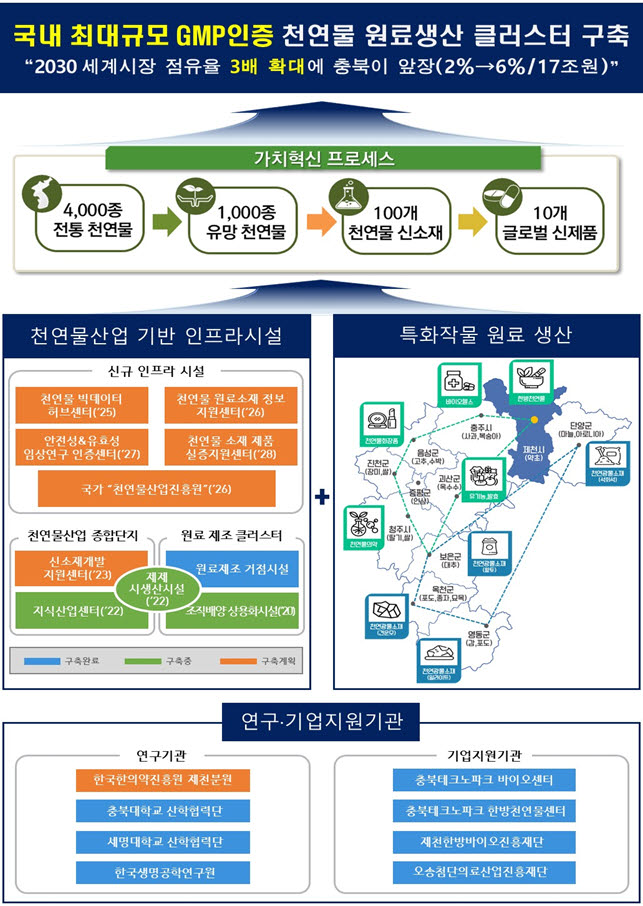 Chungcheongbuk-do will invest 3175 billion won by 2030 to foster the natural products industry.
Chungcheongbuk-do's natural product sales by plant, animal, minerals, and microorganisms to produce various added values ​​are the third-largest in the nation as of 2018. It is an idea.
Chungcheongbuk-do announced the '2030 Natural Products Industry Promotion Plan' on the 25th.
The natural product industry refers to the health functional food, cosmetics, and pharmaceutical industries using natural materials as raw materials. To achieve this, Chungcheongbuk-do established four strategies: the completion of the natural product industry infrastructure, the promotion of research bases, the strengthening of R & D capabilities, the strengthening of brands, and the promotion of commercialization.
The province plans to invest 1916 billion won to promote the nation's largest manufacturing and quality management standard (GMP) certified natural raw material production cluster and industrial complex. In addition, by spending 52.2 billion won, the Natural Products Big Data Hub Center and the nation's largest production of excellent agricultural products (GAP) certified medicinal crops will be created and the promotion of the Natural Products Industry Promotion Agency and the Korean Oriental Medicine Promotion Agency's Jecheon Branch will be promoted.
We decided to invest 24.3 billion won to strengthen our R & D capabilities.
Through this, we plan to promote the healthcare natural product industry, joint domestic R & D, international joint R & D, and functional raw material standardization research.
The province decided to invest 49.4 billion won to strengthen the brand and promote commercialization, foster a natural product venture start-up company, build a natural product trading platform, and support publicity marketing.
"The natural product industry is a high value-added industry that is used in various industries and needs to be nurtured as a national strategic industry," said Choi Eung-ki, Director of Cosmetics and Natural Products. "By 2030, 100 natural materials and 10 global-class products were developed and natural product industry in Korea. "We will increase the market share of the market from 2% to 6%."
Reporter Chungcheong = Kang Woo Sung kws9240@etnews.com
Source: etnews.com