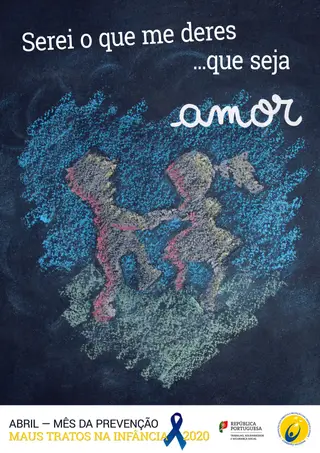 To mark the Month of Prevention of Child Abuse, the National Commission for the Promotion of the Rights and Protection of Children and Youth (CNPDPCJ) had prepared a series of initiatives, which were eventually canceled due to the emergence of the 19-covid pandemic. One of the ideas that was prepared was the training with children, in a symbolic space in Lisbon, of "a giant human Blue Ribbon, in a large and iconic space in the city of Lisbon", as stated in the statement issued this Wednesday by the institution.
The big blue ribbon in the capital can no longer be formed, but the CNPDPCJ calls on all citizens to put "a blue ribbon or a blue piece on the window, photograph and publicize it on social networks this Thursday". The initiative aims to alert the country to violence against children and the need to "draw the attention of the whole community to the need for all to prevent and combat the abuse that many children are subjected to". The communiqué further advances that "throughout the country, the Children and Youth Protection Commissions have also developed many activities and virtual challenges" with the same objective.
The idea of ​​the blue bow is due to the initiative of an American woman, Bonnie Finney, who in 1989 tied a blue ribbon to the car's antenna, in honor of her grandson, a deadly victim of mistreatment. With this gesture, he wanted to "make people question themselves", explains the CNPDCPJ statement. The impact of this initiative was great and April started to be considered the International Month for the Prevention of Child Abuse.
Look on here the campaign's TV spot
Source: expresso.pt