I'm Michael Smith, the Chinese correspondent for the Australian newspaper "Financial Review", the national business daily. I am based in Shanghai, where I have been living for two years. I was in Shanghai during the Chinese New Year in January, when we learned that this coronavirus outbreak was not limited to the city of Wuhan, it was a problem that spread across China.
Shanghai, like any other city, has registered several infections: around 300 cases in the city. It is not one of the highest in China, but it is nonetheless serious. There have been serious concerns about containing the outbreak here. During the Chinese New Year, the city was paralyzed, many people left the city on vacation. But things have never recovered, so the city has been a ghost town for the past four weeks. You walk on the street and nobody is there. Most stores are closed. You can still get food, but it's all pretty much over.
Eight days ago, I visited Hong Kong for five days to meet some people. On my return to Shanghai, I arrived at my condo and security guards told me that I had to quarantine my house for 14 days. This was a new rule that they implemented for anyone who had left the city. It doesn't matter if you went to Wuhan or not. I suspected that this could happen, I heard several reports from friends who were returning. The new rules are different depending on where you live, they are different for all condos, they are different for each neighborhood. It is ultimately determined by community volunteers who report to the local government, so they have a lot of power in determining your movements and what you are authorized to do.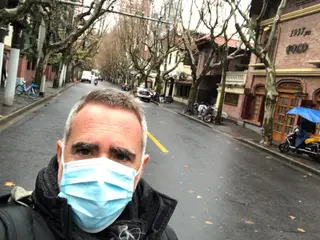 I was quarantined at home for eight days. I was allowed to leave the condo twice to go shopping, very soon. My office is at my home, so I was able to continue working. My colleague was allowed to come to my home to work with me. The quarantine rules can seem strange to many people, as you are still authorized to contact people …
They call it voluntary quarantine ('self quarantine') but, in fact, I was not allowed to leave the house, so it was a forced quarantine. All other neighbors in my condo are subject to strict rules: they must have a license or a voucher that allows a person in the house to go shopping.
During my quarantine, I usually wake up at the usual time in the morning. I take the dog outside, there is a kind of long track (or corridor) in the condo. I go back and forth with the dog. I try to run a little, I get strange looks from the neighbors. I try to be outside for a while and get some fresh air, but you can't walk very far. For me, a journalist, these are times when many things are happening in China. There are great stories, so I tend to be in the office working as usual, clutching the phone and writing. I am already adapted to this routine. I bought a lot of food, I ordered a lot of food to come home, I can still cook. Right now I am living alone, my colleagues are out. The nights are very lonely. I end up watching a lot of television, Netflix and try to read some books.
At first it is very relaxing. We all have busy lives, in a way we want this time at home to read and relax. The first few nights went well, but four or five days later, it becomes very boring. You feel alone, you feel suffocating ('you feel the walls closing in'). Feeling the freedom to be taken away is not a pleasant feeling, as is knowing that you cannot go outside, go out the gate and go anywhere.
My quarantine was supposed to be 14 days, but I found out yesterday (Tuesday) that I shortened it. I only had to do it for eight days. Today is Friday and I regained my freedom. I was told that I can obtain a license that authorizes me to leave the complex. I am now about to do so. I can go out, go to the street, I'm free to hang around in the city. It's a great feeling.
These rules in Shanghai, as in most other Chinese cities, are defined at the district government level. There have apparently been complaints from Shanghai residents that the rules are not tight enough. They were concerned about having strangers in their condo, with neighbors and the possibility that they might have contracted the virus. There was pressure on local government, here and in many other parts of China, to make the rules stricter. People really wanted draconian rules that, in countries like Portugal or mine, Australia, it would be impossible to apply. But here people are more obedient. The rules appear to be overseen by a kind of army of community volunteers who guard all residential condominiums. They report everything to the local authorities. Therefore, they have some authority and power. Most condos, like mine, have a pair of security guards at the main gate. They are the ones who control people's movements. Take your temperature when you enter and leave.
The rules are unclear, may change from time to time and are different for each area in the city. Many of my friends returned to Shanghai and did not have to quarantine at home. It depends on where you live.
There is a smartphone application and many companies ask people to download it, before they are allowed to return to work. I didn't have to download it, I'm a journalist working here, alone and at home. My company does not make me download this application, but I know of some friends who were not allowed to enter the building where they work until they download this app. This app allows companies to track where people have been in the past 14 days. They can see exactly where these people have been. The main objective is to ensure that these people were not in the city of Wuhan, in the province of Hubei, in central China, where the epicenter of the outbreak is located and where the majority of infections are. They want to be sure that those who return to big cities like Shanghai have not been in the area where the risk of infection is high. But not everyone had to have this (the app).
The mood has changed a lot. I would say that two weeks ago there was a lot of fear, it was a very dark time. Nobody really knew what was going on with this virus, the infection rate was going up every day. Many people here do not trust what the Government says, they do not trust the official figures. There was a feeling that you could be trapped: airlines were canceling flights, many countries, including mine, were banning visitors from China and many of my local friends, Chinese friends, were very depressed. They were stuck at home with their families. Many of them have small children and haven't gone out much in the past month. There was a lot of anxiety affecting the mood, there was a lot of anxiety because of the virus itself.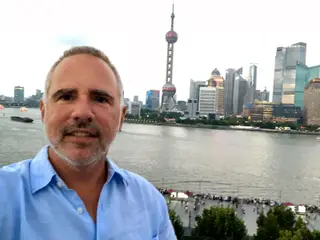 But, for me, the chances of having an infection were very low. I was more concerned with what the Government could do next: could they get here and, as they did in Wuhan, put a city like Shanghai in a 'lockdown'?
This Friday, the mood really changed. Everyone is much more optimistic, it seems that the infection rate is going down. There are many more people on the street, many more cars. I think people have a feeling that this could end soon. There is optimism. Of course, this is China, so there is a lot of skepticism about what the Government is saying. I really think that we are approaching the end of this situation. No matter what you think of the Communist Party and these draconian measures, in which the population has been locked down, they seem to have worked. People had no contact with each other. The virus is not spreading in a city like Shanghai. It seems under control.
What do I think of this whole situation? I've been in China for two years and I've seen some strange things, but this has been the most surreal month of my life. I mean, living somewhere in a completely 'lockdown', with a deadly virus around. Having no idea how the situation is going to unfold and seeing a big city like Shanghai, which is incredibly busy, completely empty. It's like a ghost town, it's so surreal to walk the streets without people. You can imagine going to cities like Paris or London and seeing them completely empty. It is a bizarre experience.
There are a couple of things that impressed me the most. The way friends and people you know come together to help each other in an agonizing moment. Most of my friends left Shanghai before it started, but a small group of people I know here, including neighbors and people I didn't even have a lot of relationship with, have been incredible. Everyone cares about others, everyone sends messages on social media to make sure everything is okay or they bring food to each other when it is possible. You have that feeling of community and that there are people who look out for each other. On the other hand, it has been a scary experience, knowing that you are in a foreign country and not knowing if you can leave. And particularly in China, where you have a powerful government that you don't always trust, it is difficult to know how things are going to happen. This can sometimes be scary. But otherwise, China is a very resilient country. This whole situation has been a mess, but there is a lot of optimism that they can recover from this quickly.
Source: expresso.pt