Nuno Fraga, 49, has been a volunteer with the Vida e Paz Community for 13 years. Every fifteen days, Thursday nights are dedicated to bringing food to the homeless in Lisbon. This week, what he found left him more than concerned, it made him sad. "What we saw yesterday was famine. And this situation only started half a dozen days ago," he warns.
"I have had very 'hard' laps, with complicated situations. I have already arrived at a place, at the same time that INEM arrived and they told me that someone had died. That person, that friend with whom, 15 days before, we had been talk about Sporting, Benfica, Porto or any other topic. The death of a person, of a friend, is very hard, but we have to compose ourselves, because, at the point after the return, we will have a person to whom we will have to encourage your life-changing process. "
This week everything was even more complicated and there was no need to kill someone to make the situation worse. "Stop after stop, the moments were always complicated", says Nuno Fraga. He explains that "until a week ago, there were several institutions on the street, supporting homeless people. At this moment, only the Vida e Paz Community remained."
In addition, restaurants and cafes have closed. The companies closed doors. The population took refuge in their homes, following the guidelines of the authorities and the instinct for self-protection. But when doors and windows are closed, there are always those who are left out. Waiting for a look, a gesture. It can be in the form of a coin, a sock of milk, a donation from a commercial establishment. However, the streets of Lisbon were empty of people and support.
"The generosity of restaurants and cafes or of those who passed by and that ended up giving people something – I say this because it is important to reinforce that they are people like all of us – meant that whoever was on the street ended up having something throughout the day to eat". Nuno Fraga also recalls that, with the cars they were tidying up, the homeless received some money that allowed them to buy food. But the reality changed in less than a week, since the Portuguese began to hide from the spread of the new coronavirus. "In the Oriente area, where we usually meet about 20 people, yesterday we had 60. In Santa Apolónia, where we would have 15 to 20 people, yesterday there were certainly more than 40. The return to Saldanha, where we usually find 30, yesterday were 90. " It was thus, a city with more homeless people, exposed to the advancement of the new coronavirus and to the helplessness that the volunteers faced a different Lisbon on the night of last Thursday.
Nuno Fraga adds that one of the courses had to leave several points without support because they no longer have meals to distribute. "Our return ended at Rossio, a place that is not part of our route but the one we went to because the volunteers who should have gone there no longer had meals to distribute", says Fraga, also explaining that all the vans in the Vida e Paz community they had taken "many more suppers than usual". Even so, what they took was not enough for everyone.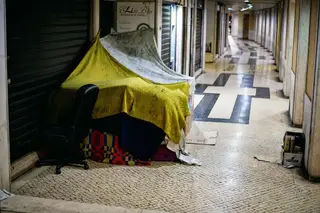 The worst at Rossio
Baixa de Lisboa then completely revealed the face of those who are not usually seen. "There were dozens of people. The emotion of the moment and what we live does not allow me to say for sure how many there would be. But surely, more than 40. We saw people running in despair towards the van. We had to take what would be the supper for one person and divide it in three, to try to reach everyone. At least, try to get everyone to take something ", shares the volunteer.
In the midst of difficulties, Nuno Fraga stresses that he found reasons for encouragement. "I also saw four other things. People's civility, because even in the most crowded areas, things went smoothly and always trying to respect the distances that we hear every day is necessary. Solidarity and great sharing. Gratitude from people who are generally they were grateful, but they were even more grateful. And despair: several times we heard 'please don't leave us. Keep coming. You are just coming to meet us'. And these phrases don't leave my head.
Having seen what he saw and heard what he heard, Nuno Fraga gave this statement to Expresso. "Let us not forget that homeless people cannot stay at home, they cannot fill the pantry with everything, including the famous toilet paper, they do not have easy access to alcohol gel, masks, or gloves. I ask that at this stage when we are all focused on minimizing the impact that this Covid-19 will have, let us not forget those homeless people as well. "
And in order not to be just negative messages, the volunteer takes the opportunity to leave an optimistic sign: "The Portuguese are being very respectful of the rules implemented. Thursday night, between 8:30 pm and 1 am, while we were back, at most we came across 20 cars ". Volunteers and homeless people crossed. And there were many for the spread of the virus, but few to help those who do not have it.
Note: Anyone who can and wants can leave non-perishable food, especially in individual packages, in the Vida e Paz Community.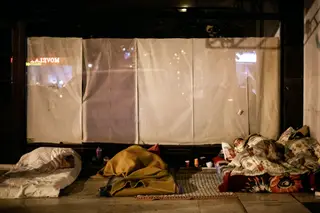 Source: expresso.pt