In a time when small businesses have the most to suffer from the lack of customers, investments in online promotion will be increasingly difficult for entrepreneurs. Many of them have already stopped promoting budgets, and others are drastically restructuring them. 5 of the trainers of the Creative Courses agency contributed to the creation of an Ebook that provides information and guidelines for entrepreneurs to make their budgets more efficient by tackling better strategies.
"Online promotion guide for small businesses" it is available, free of charge, on the agency's website for all those who are at the beginning of the road or who want to restructure their business.
The ebook is structured into chapters, each approaching a direction of promotion. The guide has 7 chapters, starting from the creation of the site to the promotion campaigns through influencers.
Chapter 1: How should your site look? Raluca Costea, the trainer of the course Introduction to WordPress, explains how to choose the identity of the site to showcase your ideas and products.
Chapter 2: What do you tell your customers about yourself? Create quality content. Trainer of course Copywriting and Content Writing, Cătălin Ionașcu, offers some quick methods of content evaluation, ways to improve the style, as well as rules that help entrepreneurs write content relevant and meaningful to the target audience.
Chapter 3: Win the battle for top positions in Google. Create an SEO strategy! Specialists explain the role of content to take the top position in Google searches.
Chapter 4: Make social media work for you! Ionuț Condruz, the trainer of the course Digital Marketing, offers tips on writing posts on Facebook, Google MyBusiness, LinkedIn, YouTube or Instagram.
Chapter 5: Social media trends that help you optimize your promotion strategies. Working with micro-influencers, stories and video content are the levers recommended by the course trainer. Social Media Optimization, Alexandra Lovin.
Chapter 6: Keep in touch with your customers. Rules of email marketing for your business.
The newsletter is not one of the most popular means of communication, but its absence will lead to a decrease in the number of loyal customers, say the specialists of the agency. In this section, the entrepreneurs learn how to use the newsletter as a way to improve the relationship with the reader or customer.
Chapter 7: Influencer marketing. Bianca Preda, the trainer of the course Strategies PR practices explains the algorithm of choosing an influencer and communicating effectively with it.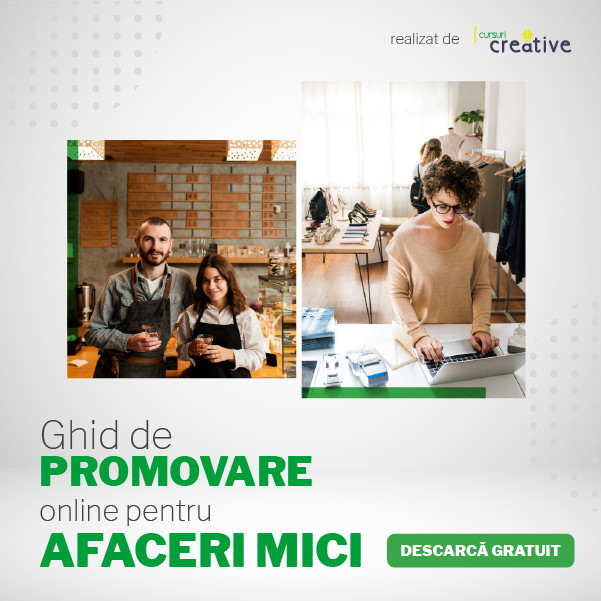 The material was made in collaboration with the Yellows agency, which supported its graphic execution and some of the information about the visual branding of a business.
Source: iqads.ro