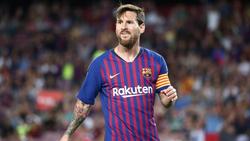 FC Barcelona will save 14 million euros a month thanks to the temporary drop in salary of 70 percent for the football professionals led by Lionel Messi and national goalkeeper Marc-André ter Stegen due to the Corona crisis.
This was revealed by club president Josep Bartomeu in an interview with the radio station "Catalunya Radio". Since all other athletes in the club would receive 70 percent less money, including the players of the equally very successful basketball and handball teams, expenses would be reduced by a total of 16 million euros.
"If the alarm condition (in Spain) lasts a month, in practice that would mean a 5.75 percent reduction in annual salaries," said the club boss. Bartomeu said that the alarm condition that had been in force since March 15 would continue "for a maximum of two months". In this case, all athletes in the club would have to forego 11.5 percent of their annual salary. "The situation is difficult. You had to take action."
According to Bartomeu, the players of the Primera División team will forego an additional two percent of the salary so that club employees affected by the short-time work announced by the Catalan club continue to receive their full salary.
Since Tuesday again tightened exit ban in Spain
In a statement posted on Instagram on Monday, Messi had denied media reports that the pros had long opposed the cut. "We are all fully aware that this is an exceptional situation," said the Argentinian. Bartomeu also assured Catalunya Radio that the players "never refused to accept a pay cut."
With almost 95,000 infections and more than 8,000 deaths, Spain, after Italy, is the most severely affected country in Europe by the corona virus. The tightening of the exit ban came into effect across the country on Tuesday.
Source: sport.de