As late as Friday night, Ms Veryga promised that "the decision on the hospital manager would be taken soon after the investigation." At noon on Saturday, he rushed to Kaunas Clinical Hospital for a scandal. The head of this medical institution A.Naudžiūnas, who was removed from the scandal, also participated in the meeting.
After leaving the hospital director late Friday night, Saturday, before entering the Kaunas Clinical Hospital building, A.Veryga had already offered to rush to court. He assured her that it would be clear who the disposable suits were and why they were put in bags or whether they were actually reused.
Only the inner third layer was accumulated
On Saturday, the infectologists of Kaunas Clinical Hospital – the head of the Infectious Diseases Clinic of LUHS, the infectologist of Kaunas Clinical Hospital, prof. Auksė Mickienė and Head of the Division of Infectious Diseases Estela Tamašauskienė. The institution's facebook page states that false accusations have been made on social networks.
According to A.Mickiene, such a disposable storage decision was made when Kaunas did not yet have mobile virus testing centers, and before they were available, all possible coronavirus-infected persons were transported to the hospital in-patient.
"Every single person outside came into an isolated ward. Two fully-dressed persons came to the ward, a nurse and a doctor. The nurse took a sample from her nose and throat, and put on the apparatus. The role of the doctor is to look at the human condition, to ask about medicines, chronic diseases.
It is important to emphasize that the suits in the bags are the third layer worn by the doctor. There was also a disposable bathrobe and apron on it. So after leaving the patient's examination, the doctor removed two upper layers, cuffs, gloves. Only the third inner layer was folded. None of those suits in the bags were removed from the coronavirus patient, from the physician who had any intense interventions with the patient, and had close contact with him.
We had 20-25 patients with suspected coronavirus infection per day until the dots were out. And only one person a day confirmed the infection, "explained the infectologist A.Mickienė.
According to her, to date, 360 samples have been taken at Kaunas Clinical Hospital for suspected coronavirus. The virus was confirmed only in 22 people.
"So count that two people were going to those 360s with full clothes. Look at the probability of a positive result. We combined everything with the criterion of reasonableness. Just saved the third inner layer. The doctor wearing them had no contact with the patient, "assured A.Mickiene.
We, as medics, were deeply hurt by the message that the virus was in perfect condition to multiply in those bags. Error.
Infectologist: Medical scandal hurt
She said doctors were asked to stock up on respirators, goggles, as things progressed rapidly, looking for points of contact with scientists and industry to discover ways to disinfect disposables. So it should be appreciated that the storage, according to the infectologist, is completely clean, looking a few steps ahead that they may be processed in the future.
"We, as medics, were very hurt by the message that the virus had been well placed to reproduce in those bags. Error. The virus cannot reproduce in a polyethylene bag. It can reproduce only by being caught in a living human cell. In a bag, it can only stay viable for 2-3 days. However, the presence of a cell does not mean that it is viable. What hurt most was the message that a man would come across some dirty office where a doctor in a dirty suit would approach him. This is certainly not the case.
Our maybe 50 staff members checked out the virus on Friday. We are glad that only one positive test was found. It was a nurse who got infected from her husband, a long-distance driver, "explained the infectologist, who suggested that events should be treated more critically.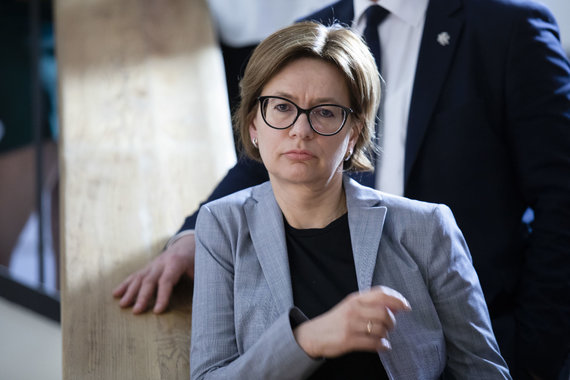 Photo by Lukas Balandis / 15min / Auksė Mickienė
According to her, every day the stocks held by the hospital are recalculated. According to the infectologist, they have never been in short supply, but they can never know if future orders will arrive on time.
"With the emergence of mobile points, we are no longer doing it. The biggest mistake is that we did not find a normal storage place to put all these things together," she said.
E.Tamašauskienė, Head of the Division of Infectious Diseases, added that protocols of dressing and undressing one-time protective measures were not even specified at the beginning.
"If we train our doctors, we train them in layers. After the interventions, we destroy everything. Now you wouldn't see it, we don't know when those photos were taken. It's easier to get dressed now. Tamašauskienė.
Asked if one of the suits in the bags had been worn a second time, she could not answer accurately but assured her that she had not.
Will be replenished
The prime minister called for his dismissal
"Responsible lawyers of the Ministry of Health (SAM), in cooperation with another partner of the institution, the Lithuanian University of Health Sciences (LSMU), are urgently required to conduct an official investigation into this situation. In the meantime, the head of the hospital will be removed from office – temporarily replaced by one of the deputy directors, "Veryga said on Friday after a scandal erupted.
Žygimantas Gedvila / 15min photo / Aurelijus Veryga
"Healthcare facilities working with infectious patients have the necessary personal protective equipment available from the reserve whenever they request it. Therefore, disposable clothes do not have to be saved – because they are disposable. In addition, personal protective equipment is constantly being purchased and the latest shipment will reach them this weekend, "the minister stressed.
Prime Minister Saulius Skvernelis urged him to dismiss the head of Kaunas Clinical Hospital on Friday evening. He called the "scandalous and appalling" and "criminal" information that appeared on the social network with photos. They show disposable medical suits packed in bags at Kaunas Clinical Hospital and reused.
Benefit Only on Black Day
"Here are disposable clothes that were put on after the shift of doctors at Kaunas Infectious Hospital. They write to me that the system is like that now – you undress and put it in a bag. Write down the name. Coming next shift you will find your bag and get ready again, "journalist Daiva Žeimytė-Bilienė announced on Friday afternoon, sharing photos from Kaunas Clinical Hospital.
Spokesperson of Kaunas Clinical Hospital Saulius Tvirbutas 15min explained that the protective suits were thus accumulated on a "black day".
'Protective suits shall be placed in separate individual bags until the diagnosis is confirmed. They are only used once for the same patient. If the patient under observation is diagnosed with COVID-19, the entire accumulated kit is disposed of immediately. After each visit to such patients, disposable suits are discarded and not collected, " 15min A spokesman for Kaunas Clinical Hospital explained on Friday.
According to him, if it turns out that the patient does not have COVID-19, the suits will be used again by the same employee only if there is a shortage of resources during a major pandemic. The photographs show used accumulated reserves, Tvirbut said, but are not used for the second time.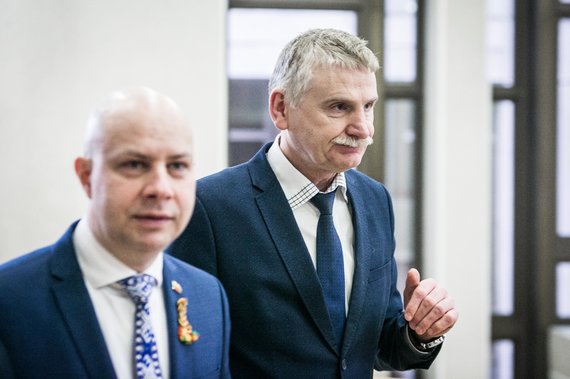 Photo by Arno Strumila / 15min / Albin Naudžiūnas
A.Naudžiūnas: The whole world is saving
Late Friday, the head of Kaunas Clinical Hospital Albinas Naudžiūnas asserted that Prime Minister Skvernelis had called for his dismissal without going into the hospital's situation.
A.Naudžiūnas said he did nothing wrong and called the situation politicized. According to him, "all over the world" saves medical protective equipment, and saving on reusable disposable suits was a common hospital decision.
At the hospital, presumably, protective measures for medical staff are sufficient.
According to A. Naudžiūnas, "12-13 adults and one or two children" are currently being treated for coronavirus at Kaunas Clinical Hospital.
"Two patients are in serious condition. Both adults. One older, the other younger. He's between 30 and 40 years old, but he has comorbidities, "said a medical doctor who added that 8 people had gone home for treatment.
Source: 15min.lt