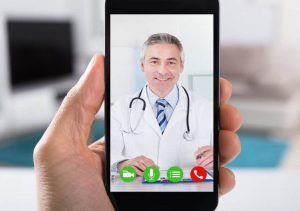 Doctors offer remote consultations. Medicover Romania, one of the largest private providers of medical services, developed with Atlas Help the MediCall service, the first medical service designed to reduce the need for circulation and social interaction of Romanians, in the context of the restrictions imposed to limit the spread of coronavirus.
"MediCall is a solution where people can stand face-to-face with our specialist doctors through a laptop or phone screen, without having to physically go to the medical office and expose themselves to the risk of being infected with coronavirus. In other words, we facilitate access to home health services, even if they are in isolation, quarantine or abroad and thus support the authorities' efforts to maintain social distance, "said Radu Gorduza, CEO of Medicover Romania.
Those in need of medical advice can communicate real-time videos with dozens of general practitioners, internal medicine, epidemiology, pneumology, infectious diseases, pediatrics, endocrinology, gastroenterology, obstetrics-gynecology, neurology, diabetes and nutrition, rheumatology and psychology, about which they can obtain information by consulting the biographical descriptions of each doctor. Interactions between patients and physicians are confidential.
The MediCall service can be accessed between 8 and 22 hours on the website www.medicover.ro, directly on the link-ulmedicover.atlas.app and through the ATLAS application, available for iOS and Android systems.
Doctors offer remote consultations
In order to get in touch with a doctor, patients must create a personal account on the platform using the email address, choose the specialty and name of the doctor and make the online appointment.
"Basically, patients leave the Stalinist home, we move online. These virtual meetings can be accessed from wherever there is an internet connection and will not cost more than a consultation at the office.
Being a video, the platform allows for a brief examination of the patient, who also has the option of sending documents to the doctor, such as the results of medical analyzes or other relevant data. But MediCall only mediates specialized advice and opinions, the doctors do not issue medical reports or prescriptions at the end of the meeting ", adds Radu Gorduza.
Medicover officials anticipate the need to develop the project and say they are open to collaborations with other doctors, from any area of ​​the country and any specialty, to improve the quality of patient experience in the online environment.
Medicover Romania subscribers can also obtain medical opinions through the "Medical Advice" telephone service, available for free and for which Medicover has supplemented the number of doctors, as well as the specialties available for the period of the coronavirus pandemic. Moreover, the program of the "Medical Advice" service has been extended and, as of today, is available non-stop.
Source: doctorulzilei.ro