The last thing I remember is Samuel Hayden. I won't forgive him for betraying me! He took my powerful energy sword "crucible"and locked into a trap on the Martian UAC base. Everything went according to my plan, all the demons that stood in my way so far were ripped and torn. No one had a chance to resist my anger. My hate grew at any moment because it was clear to me that Samuel Hayden would continue to use the power of hell, which means only one thing, hell comes to the ground, and it is incredibly TWICE! I feel this idea strengthening my body and I get out of his trap to destroy all his plans.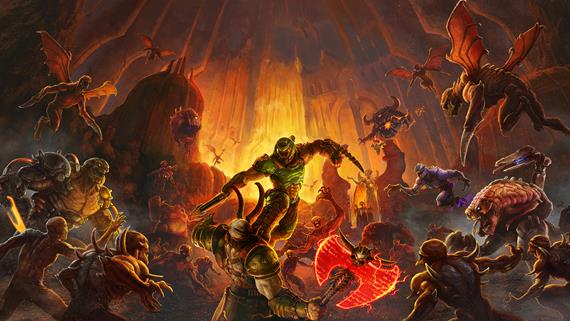 Want to know what happened next? Well, you're out of luck, maybe it will be explained in DLC. Anyway, blink, imagine the sound of a teleport, (how does the sound of a teleport actually sound?). Screw it, you just appear in "Doom Fortress", a kind of cosmic base that serves as a home for our" Doom Slayer ". You hear the prayers and prayers of people on earth asking for salvation from the hell that is on earth. 60% of the population has been cleaned from the earth's surface and your task is difficult Take your shiny ass in a praetor suit to reload a shotgun and go down those demonic bastards.
Of course, nothing is well explained. You as a player can only ask "what about the stauo?", But the answer is not there. The unit ended up in a certain direction, and we all expected it to connect nicely to the second part. But the way this episode begins seems to me that at least 3 hours of story / gameplay has been cut out. Why did the creators decide to do that? Should we use our imagination or just want to enrich ourselves with DLC? We'll see that over time.
Of course the story is simple and I wouldn't expect anything complex from Doom. Everything makes sense, and you know all along that the goal is still the same. destroy. rip. unweave and haunt the demons with their brutality. The goal is to completely stop the invasion, but at the same time, you can get to know each environment more intimately through records. If you don't read anything, you won't break the main story, don't worry. It just draws you more and explains where you are and what happened.
A lot of disgusting things will make you uncomfortable, and I must admit that I found the variety richer than it was in the first modern Doom game. They have a big plus from me because of the ability to tear pieces of meat from enemies while pouring lead / plasma into them. It looks very good and gives the game a bigger metal charge. But we come to another minus, although the enemies are more diverse but also bigger pains in the ass. Sometimes the game unnecessarily throws too many enemies on you just to make it annoying.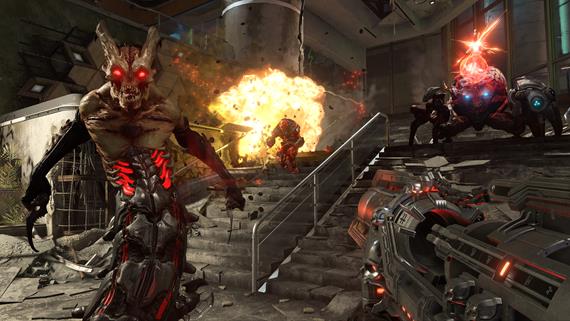 Of course it's mostly fun except for one enemy. Ladies and gentlemen, this enemy is worse than the last major boss of the game, and it is a common enemy. He is called in hell "MarauderIt can't be killed by any weapon right away. Nothing applies to it. It has an unsurpassed shield, it is as fast as diarrhea, it can kill you both at a distance and close and still provokes a fire wolf. WHAT IS THIS? it spoils the experience of everything going for butter, you smile and grun with happiness and suddenly see "Marauder" shouting at you "this is my swamp, what *" and throws you If we stop taking it into account, the other enemies are fine, they all have a weakness, just find it, yes, and our famous "Marauder", but with his weakness, it is unnecessarily difficult to kill him.
As for the main enemies, I find it as if they were not even there. They introduce you as a "boss" and then become a common enemy. Indeed, in addition to the three full-blown barefoot, there was no more. I was hoping there would be a lot more than the first episode, but I was wrong.
Weapons are very similar to the first parts, only visually a little different. Personally, I liked them more, they have better workmanship and more improvement possibilities. Still, the modes of arms are 2 and no specials, but they don't even need it. As a novelty you have a firing sword and even a flamethrower + grenade launcher. Gradually getting "bodíky"for even more complex weapon upgrades. The same goes for yours"praetor suit"where you can get coins"tokens"Of course, we didn't forget to improve life, armor, charge capacities using crystals. It's all scattered around the map along with collecting things like: toys, LPs, story page snippets, and quite interesting news,"cheatYou can use these floppy disks after you have passed the level and want to have it again.
The game environments are much more visually interesting compared to the unit where the environments were only: Hell, Mars, UAC bases. Here you get to the different-looking parts of hell, to the hellish land, or to a completely different world and different bases, which always look different. It is constantly changing and it is more pleasing to the eye. The pity is that everything is now colorful and the game has lost its dark charm. HUD is all colored and the types of cartridges are extremely color differentiated. It's like in a circus RGB hell and it's no longer so nice, the atmosphere is disappearing. To get back to the environment, I found a minus there as well. Overall, the "platforming", which is in this episode quite exaggerated to me so did not mind. But I didn't understand why they put water levels there. I didn't see any sense in them, they were short and just annoying. On top of that, you need a radiation suit as the water is contaminated.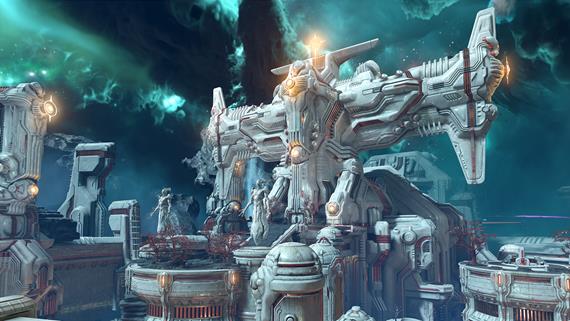 During your peaceful journeys, you will also experience a proper testing of skills. It will check you "slayer gate"To get there you have to find the key. It's a bonus level, extremely challenging, but when you finish it you will receive a key reward to open a special weapon. Also when you find"sentinel"batteries, all of this can be used to unlock bonuses in your home at" Doom Fortress ".
Obviously, since there was a multiplayer in the unit, it must not be missing here either. Unfortunately he did not convince me of his qualities, after a few attempts to get into it, he became bored. Not bad, just not interesting. Multiplayer has a so-called "BattlemodeYou can forget about classics such as deathmatch and other modes. There are just two players (demons) against one (Doom Slayer). poorly balanced for poor "Doom Slayer".
The difficulty of the game depends on how you want it to be. Whether you want to be raped with or without a lubricant depends on the very first choice. I personally chose "ultra-violence" to start with and cried in a few situations. Surely every player will find his own. The game can be very simple, it can be a challenge or a direct nightmare. All you have to do is choose what you want and whether you have the balls.
To sum up, the game gives you a lot of motivation to play it. Perfect gameplay, great graphics and especially tuned optimization. The length of the game surprised me and until I went through it and improved everything so it took me nice 26 hours. Everything together despite some minuses form a great whole, it is all enhanced by metal music from Mick Gordon, which even surpassed this time. But when comparing to the first episode, I find that where they took a step forward, right away, they took two steps back. Sometimes there are less and some things could be forgiven. I hope the boys will learn and hopefully, when there is another episode, they will catch the mistakes of that episode and keep the good ones!
Source: sector.sk