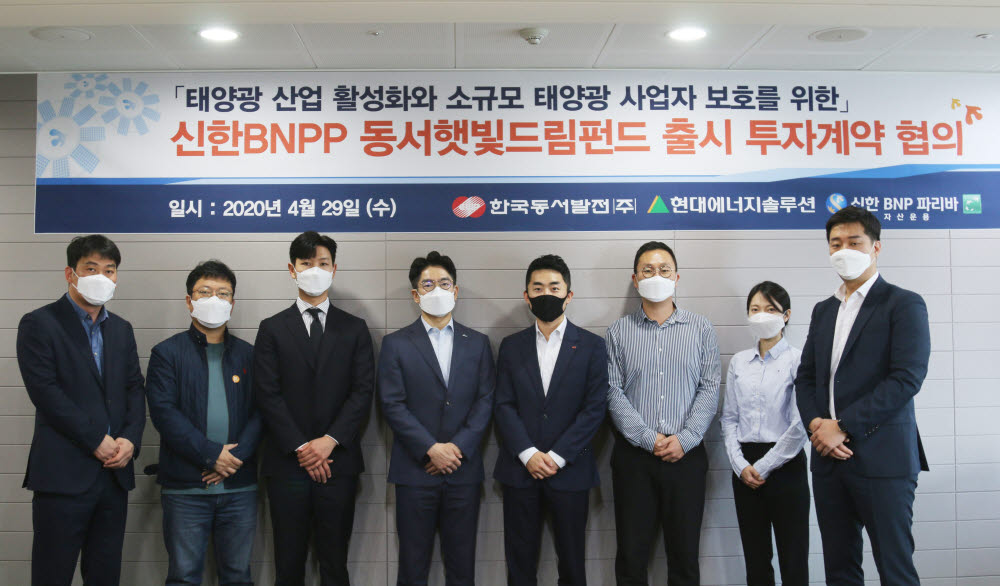 Korea East-West Power announced on the 29th that it is planning to develop a small-scale photovoltaic business of 500 billion won by creating a 'East-West Sunlight Dream Fund'.
On this day, the headquarters of Shinhan BNP Paribas Asset Management in Yeongdeungpo-gu, Seoul, discussed the necessary matters of Korea East-West Power, an investment company, Hyundai Energy Solution Co., and Shinhan BNP Paribas Asset Management, an asset management company.
The 'East-West Sunlight Dream Fund' project means 'to achieve the dream (dream) of photovoltaic companies through the Sun-Dream's Sunshine Dream Project'. %).
Dongseo Power and Shinhan BNP Paribas Asset Management use 100% of domestic equipment such as modules, inverters, and transformers, which are the main equipment for photovoltaics, in order to stably expand the domestic photovoltaic domestic market. We designed the 'Social Value Creation Investment Guideline', which primarily invests in projects designed and constructed by SMEs.
Dongseo Power supports stable profit generation by signing a long-term fixed price contract with the Renewable Energy Supply Certificate (REC) with small-scale photovoltaic companies that meet the investment guidelines. Based on the experience of operating a power plant, it provides an operation management solution optimized for solar facilities.
Hyundai Energy Solutions supports participation of SMEs through collaboration with SMEs that require credit ratings and construction performance as well as supplying solar equipment.
Businesses who want to participate in this project can submit an email from 11th to 14th next month.
Staff Reporter Byun Sang sgbyun@etnews.com
Source: etnews.com