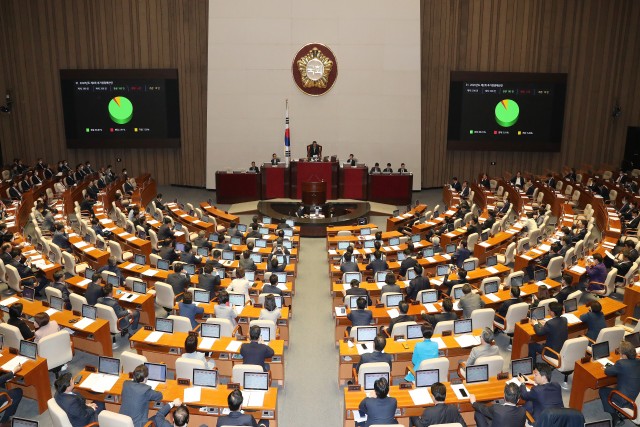 On the morning of the 30th, the National Assembly handled the second additional budgetary budget of 12.20 trillion won to provide emergency disaster relief funds to respond to Corona 19. It is only 14 days since the government submitted the supplement.
Accordingly, 21.7 million households across the country receive emergency disaster relief funds. Disaster aid payments are 400,000 won for single-person households, 600,000 won for two-person households, 800,000 won for 3-person households, and 1 million won for more than 4 households. 2.7 million households of low-income households will receive cash without additional application procedures from the 4th of next month. It is deposited into an account that receives a living allowance or basic pension. Most of the rest of the households will receive payment in the form of electronic money or local love gift certificates from the middle of next month. The application for payment is made in a five-sub system like a mask.
Also, as the national payment for all disaster relief funds is based on voluntary donations, if you do not apply within 3 months, the disaster relief funds will be automatically converted into donations. In this regard, the "Special Act on the Recruitment and Use of Donations" was also handled at the plenary session of the National Assembly.
The donation special law is designed to enable the Minister of Employment and Labor to raise the donation if the donation is made without receiving the disaster aid. The donations are captured by the Employment Insurance Fund and used to stabilize unemployment benefits or corona-related employment in the future.
Along with this, the 'Partial Amendment to the Special Act on the Establishment and Operation of Internet Specialized Banks', which was rejected by the Provisional National Assembly in March, was also passed at the plenary session.
As a result, Kbank, the No. 1 Internet bank, will open a way to increase capital from KT, the majority shareholder, and is expected to find a way out of the closed state.
KT's amendment to the Internet Banking Law secured up to 34% of its stake through paid-in capital increase, and was able to escape the regulation of segregation of banks, which is blocked by a 4% stake. However, KT is expected to stick to this plan after recently decided on the plan B, a subsidiary of BC Card, to increase capital.
The National Assembly also dealt with the 'Partial Amendment Act of the Korea Development Bank Act,' which is about establishing a 'terminal industry stabilization fund' to support key industries struggling with corona19. The fund is raised to a total of 40 trillion won.
The National Assembly also passed the so-called 'Telegram n Room Prevention Act', 'Partial Amendment to the Special Act on Punishment of Sexual Violence,' 'Amendment to the Criminal Act,' and amendment to the law on the regulation and punishment of criminal profit concealment. Online News Team onnews2@nextdaily.co.kr
Source: nextdaily.co.kr