This article was written by ET, a reporter specialized in stock market analysis of electronic newspaper and financial AI company Thinkful.
On March 26, Hwaseong Valve (039610) announced that the stocks of related parties including Jang Won-gyu, the largest shareholder, increased. This increased 48,000 shares from the previous reporting date, raising the stake to 46.39%. The reason for this report is known as the number of purchases made by the chairperson of the related party.


Changes in the stakes of the largest shareholders and related parties are factors affecting the share price. In particular, if the holding ratio is continuously increased or decreased, it is necessary to be careful when investing in the relevant item.
The followings are Hwasung Valve's stake changes and holdings.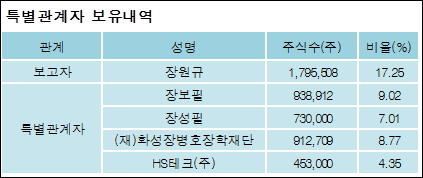 Reporter Analysis Specialist Robot ET etbot@etnews.com
Source: etnews.com