This article was written by ET, a reporter specialized in stock market analysis of electronic newspaper and financial AI company Thinkful.
On the 29th, Evest Investment & Securities presented AMOREPACIFIC (090430) with an investment opinion of 'BUY (maintain)', saying, "The Chinese direction is right."
Analyst Orin-a of Evest Investment & Securities' 'BUY' opinion on this item remains unchanged from the previous trading opinion of Evest Investment & Securities. Buy 'opinion remains intact. And when comparing with the consensus of the overall securities company report released in the last quarter, the opinions released today converge on the overall opinion, and this opinion is analyzed to be an objective expression of the market's average expectations.
Looking at the trend of the target price, it seems that the target price has remained at the same level for a long time. Also, based on the closing price of the previous day, it is suggested that the current stock price of the same category has a 25% undervalued factor compared to the proposed target price.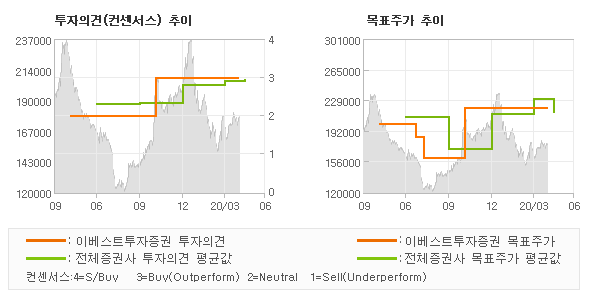 ◆ Report briefing
About AMOREPACIFIC (090430) at Ebest Investment & Securities, "Amorepacific's 1Q20 sales based on K-IFRS consolidation decreased by 22.1% year-on-year to KRW 1,13 trillion, and operating profit decreased by 67.3% to KRW 61 billion, corona19." According to the analysis, the results are generally in line with the lower market expectations.
In addition, Evest Investment & Securities said, "Considering offline downturn after COVID19, we expect the digital sector to continue to concentrate, and major restructuring plans are also positive."
◆ Report statistics
Evest Investment & Securities' overall ratings for the past year have been revised upward. The target price has recently been revised up to 220,000 won since the low of 160,000 won in April 2019.
The 'BUY' opinion and target price of 220,000 won announced today at EBEST Investment & Securities converged to the overall opinion, and the average expectation of the market is relatively objectively expressed, and the target exceeds 2.7%. Became. For reference, NH Investment & Securities, which recently offered the most aggressive target price, targeted BUY (maintain) with its target price of 240,000 and conservative opinion. The stock price was presented at 190,000 won.
(Evest Investment & Securities' investment opinion trend)
-2020.04.29 Target price BUY (Maintain)
-2020.04.20 Target price BUY (Maintain)
-2020.02.06 Target price 220,000 Opinion BUY
-2019.10.31 Target price BUY (upward)
-2019.10.11 Target price 160,000 HOLD (Hold)
(All Securities Companies Recent Reports)
-2020.04.29 Target price 220,000 Opinion BUY (Maintain) Evest Investment & Securities
-2020.04.29 Target price 200,000 Opinion BUY (Maintain) Yuanta Securities
-2020.04.29 Target price 230,000 Opinion BUY (Maintain) Shinhan Financial Investment
-2020.04.29 Target price 200,000 Opinion HOLD Cape Investment & Securities
Reporter Analysis Specialist Robot ET etbot@etnews.com
Source: etnews.com