"Nobody knows how long the economic coma lasts and the amount of damage."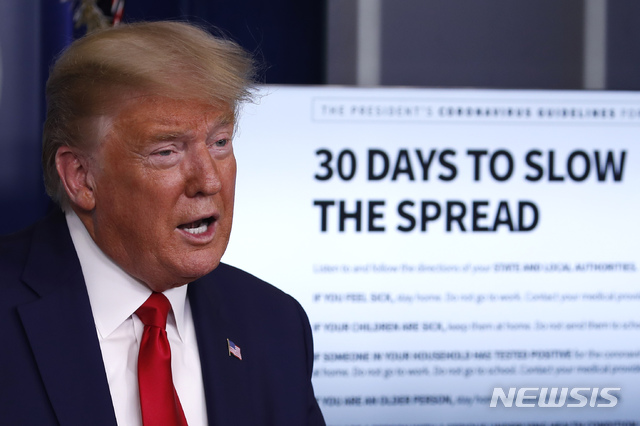 (Washington = AP / Newsis) US President Donald Trump is giving a press briefing with the Task Force on Response to the New Coronavirus Infectious Disease (TF) at the White House on March 31 (local time). President Trump made an announcement to extend government regulations, such as social distance, by the end of April. "All citizens are demanding sacrifice," he said. "It will be a very painful two weeks." 2020.04.01.
(London = Newsis) Reporter Lee Ji-ye = 1st (local time) European stock markets ended a decline of around 4% as concerns over the spread of new coronavirus infections (corona19) continued.
The British FTSE 100 index closed the day at 5454.57, down 217.39 points (3.83%) from the previous day. The German DAX index closed at 9544.75, down 391.09 points (3.94%). The French CAC index was 4207.24, down 188.88 points (4.30%).
US President Donald Trump said during the Corona 19 briefing the day before, "I will have a very painful two weeks." The White House predicted that 100,000 to 240,000 people would die from Corona 19 in the United States.
Analyst Anuti Bhuguna, of Colombia's Tread Needle Investment, pointed out that the problem is that no one knows how long the economic coma (coma) under Corona 19 will last and how serious the damage will be.
According to the count of Johns Hopkins University in the United States, as of this day, corona19 confirmed worldwide surpassed 880,000. More than 44,000 people died.
America, Italy, Spain, China, Germany, France, Iran, and the United Kingdom in the order of the most confirmed.
◎ Sympathetic media Newsis ez@newsis.com
Source: newsis.com