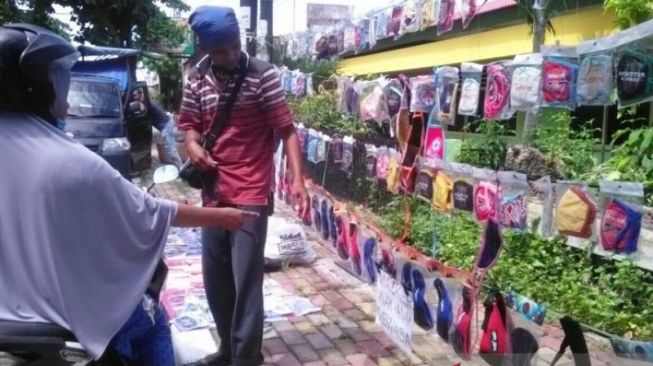 <! -
->
– Seasonal fabric mask traders in the City of Pariaman, West Sumatra have earned a turnover of Rp 500 thousand per day since the outbreak of the COVID-19 outbreak in a number of regions in Indonesia.
"The average sales of about 100 units every day and more and more are buying," said seasonal mask trader in Pariaman Alex Zulkarnain (33) in Pariaman, Wednesday (3/25/2020).
He said he increased the purchase of masks because residents had difficulty getting health masks.
The masks he sells on the sidewalk vary to attract buyers with prices ranging from Rp. 10 thousand to Rp. 15 thousand.
"Initially the price was from Rp 3 thousand to Rp 10 thousand, but because the capital is currently also rising, I also raised the selling price," he said.
However, some of the masks sold were left over from the sale of smog a few months ago and were resold at the COVID-19 outbreak.
Meanwhile Head of the Pariaman City Health Office Syahrul said the use of cloth masks or the like could be used to minimize COVID-19 attacks.
"Can be used, the important thing is to keep your mouth shut. Whereas with tissue you can," he said.
However, he continued residents must maintain the cleanliness of the mask because if it is dirty it will cause new problems.
"The important thing is that residents often wash it and keep washing their hands with soap," he said.
He also asked residents who had just returned from overseas to check health to the health center so that they could minimize the spread of the virus.
However, he added that at this time there were immigrants returning to Pariaman who did not want to check their health even though they had been advised and were even asked to stay overseas so COVID-19 did not spread.
Until now there have been no residents in the area declared positive but the number of people in the monitoring continues to increase from 17 people on Saturday (3/21), while Monday (3/23) to 20 people. (Among)
Source: suara.com