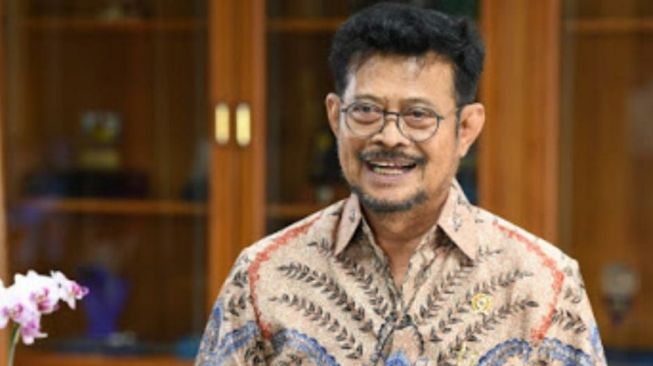 <! -
->
– The benefits of agricultural insurance or Paddy Farming Business Insurance (AUTP) are felt by six farmer groups (poktan) in Bontojai Village, Bontocani District, Bone Regency, South Sulawesi. Rice fields covering an area of ​​33.75 hectares that experience crop failure get insurance claims.
Minister of Agriculture (Minister of Agriculture), Syahrul Yasin Limpo (SYL) said that farming is an activity that depends on natural phenomena, so that careful action is needed in dealing with it.
"During the dry season, farmers must be able to anticipate that drought does not occur. Likewise during the rainy season, flooding can threaten. This natural phenomenon can be faced if infrastructure and facilities are ready and appropriate," he said, Jakarta, Saturday (4/4/2020) .
According to him, the use of appropriate seeds (site-specific), balanced and timely fertilizer application, wise use of pesticides, and irrigation management are things that must be considered.
"When these things have been fulfilled, then farming activities can run smoothly, so as to produce the desired production. But sometimes, crop failure often occurs due to climate phenomena, so that it fades the farmers' enthusiasm," added Director General of Infrastructure and Agricultural Facilities at the Ministry Agriculture (Ministry of Agriculture), Sarwo Edhy.
So that the enthusiasm of farmers is not extinguished, the government in this case the Ministry of Agriculture made a program of protection to farmers namely agricultural insurance. Even to provide convenience for farmers, the government provides a premium subsidy of nearly 80 percent.
"Agricultural insurance is a form of government efforts to protect farmers from crop failure losses due to natural disasters, infectious animal diseases, climate change, and other types of risks that have been established. Agricultural insurance basically helps farmers in the event of failure," he explained.
Sarwo added, with agricultural insurance, farmers who fail to harvest can start a business again from claim payments. Farmers who take out agricultural insurance will get a compensation of Rp 6 million per hectare.
"Of course this will restore the enthusiasm of farmers to restart their farming business," Sarwo said.
Agricultural insurance or better known as AUTP developed by the Ministry of Agriculture, so far has not encountered many obstacles. Claim payments made by PT Jasindo went well.
"The premium is cheap because it can be subsidized by the government. Only Rp 36 thousand per hectare, from the original Rp 180 thousand. It's too bad if farmers do not participate because if they fail to harvest, there will be money that will be disbursed at Rp 6 million per hectare," he said Sarwo.
To facilitate insurance registration and data collection, the Ministry of Agriculture together with PT Jasindo also publishes online-based services through the Agricultural Insurance Information System (SIAP). Farmers or farmer groups who will register for insurance are accompanied by their counselors to register by filling out the digital form on the SIAP application.
AUTP is expected to be able to mitigate the risk of farmers' businesses, so that they can be better competitive. The main requirement is that farmers will voluntarily become AUTP participants.
"After becoming an AUTP participant, farmers will automatically get a guarantee of protection against farming risks, so that after getting a claim, farmers can do their farming business again," he concluded.
Head of the Office of Agriculture (Kadis) for Food Crops, Horticulture and Plantation in Bone Regency, Sunardi Nurdin, said that the six farmers joined in insurance by paying Rp 36 thousand per hectare.
"The six farmer groups whose paddy fields failed to harvest were given a disbursement of Rp. 202.5 million in Rice Farmer Business Insurance funds for 33.75 hectares of failed land," he said.
Source: suara.com