<! -
->
– Joko Anwar said that until now there were still many filmmakers who did not heed the government's appeal related to avoiding gathering activities to break the chain of transmission of the corona virus (Covid-19).
"There are still many who are still shooting feature films and FTV and advertisements," wrote Joko Anwar on Instagram.
As a filmmaker, Joko Anwar regretted it enough. He also has a message that can be a reflection of the filmmakers who are still determined to shoot at a time like this.
According to the director of the film Gundala, ideally filmmakers always want to arouse the emotions or feelings of the audience through the work they made. But Joko said, that goal would not be achieved if the filmmaker himself was numb.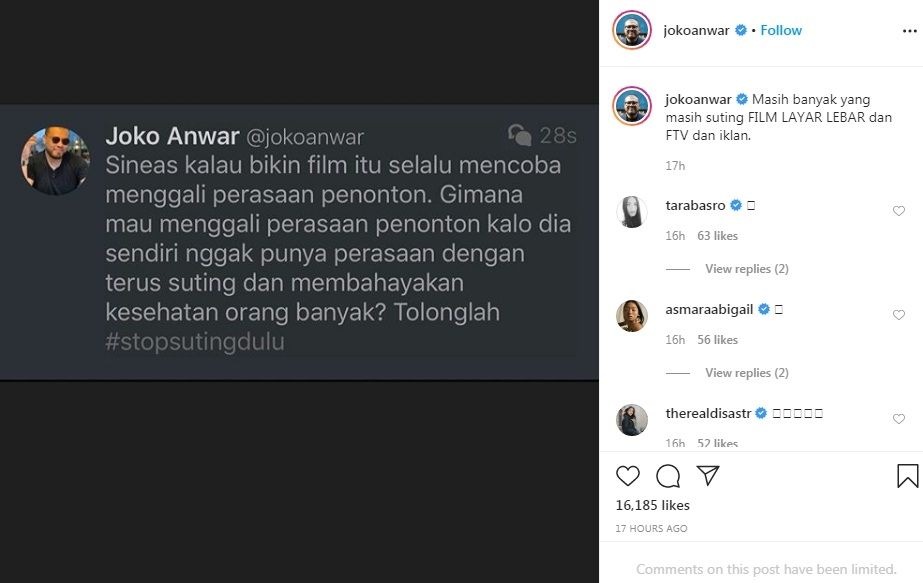 "Filmmakers when making films always try to explore the feelings of the audience. How would you like to explore the feelings of the audience if he himself does not have feelings by continuing to shoot and endanger the health of many people? Please," said Joko Anwar.
Joko Anwar's upload received a response from citizens, including fellow artists. Wulang Guritno, for example, asked whether it was true that some people were still filming.
(embed) https://www.youtube.com/watch?v=J_5mLpjxK1I (/ embed)
"So, is there still a bang at this point, brother, stay safe," commented Wulan.
Next there is actress Dian Sastro giving angry emoticons. While Asmara Abigail, who is still isolated in Italy due to corona, gives emoticons to cry.
Source: suara.com