The Folding @ home project is not new, but since the onset of the Coronavirus epidemic, a section of the program has been dedicated to finding a vaccine to stop the spread of the virus.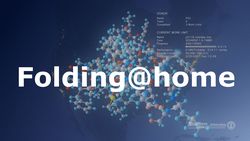 Researchers are working to develop a treatment or vaccine against SARS-Cov-2, but many are limited in the means available. For many, access to supercomputers which make it possible to carry out simulations of different molecules on the virus is complicated: the slots are negotiated at a high price or the availability is simply not there, the supercomputers being reserved for a long time advance for various research projects or by industrialists.
It is on this observation that Folding @ home was launched a few years ago, it is a small software to download and install on your PC (or even on some game consoles) and which exploits the power personal PCs to assist research. By accumulating millions of PCs around the world, researchers have a virtual Supercomputer that has just seen its power pass the milestone of 470 petaFlops, more than the current most powerful supercomputer in operation (148 petaflops).
The project has thus already made some discoveries, in particular with the 3D representation of the protein located on the membrane of the virus and which allows it to cling to human cells to infect them with its RNA.
Source: generation-nt.com