Although we have yet to discover Galaxy Note 20 several months this phone now appears in the GeekBench benchmark. Specifically Plus 5G version, which should not be too different from the standard model (at least in terms of hardware). So what does this leak reveal?
Samsung Galaxy Note 20+ 5G carries a label SM-N986U and the benchmark revealed several key specifications. Smartphone runs on Android 10 and has 8 GB RAM. This is a bit surprising as Galaxy Note 10+ operates with 12GB of RAM. So one can expect Samsung will offer two variants.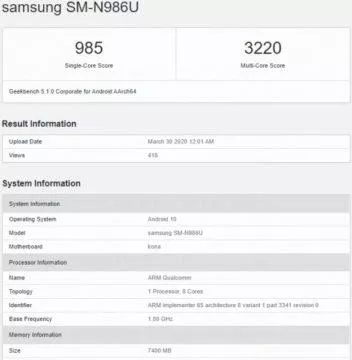 The heart of the phone should be the Snapdragon 865, but either it is clocked at a higher frequency or it is Snapdragon 865 Plus. The 865 frequency is 2.84 GHz, while the processor in this phone is running at 3,09 GHz. However, we will wait some time for confirmation. As for the performance itself, he noted 985 points in the single core and 3,220 points in the multi-core test.
What do you say about the performance of Galaxy Note 20 in Geekbench?
Source: gsmarena.com
Source: svetandroida.cz