Igor Fekonja lives with his body and soul for firefighting. For 3,000 interventions, he received a firefighter's hatchet.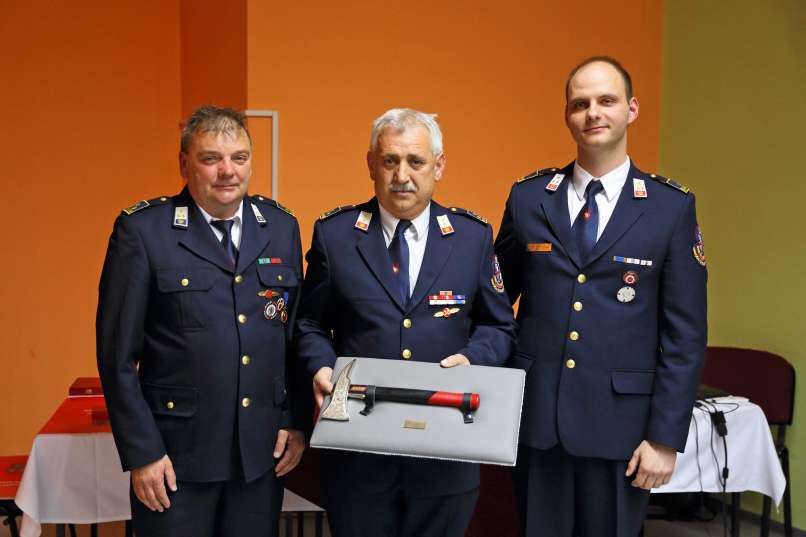 Črtomir Goznik
Igor Fekonja, deputy commander of PGD Ptuj, recipient of a firefighting hatchet for 3000 interventions and badges for his long-term, 50-year work in the firefighting organization
His firefighting story began 50 years ago, and at the 150th PGD Ptuj General Meeting he also received a firefighter badge for 50 years of work at a firefighting organization. He was seven years old when he entered the ranks as a pioneer. The Fekons have a fire department, so to speak, in blood, so were the grandfather and father, brother. Family, too Igor Fekonja she is a full firefighter, both sons are firefighters and her wife is helping. Firefighters are people with a big heart when they need to be activated as soon as possible. Many events in the family, even though it was necessary to leave, give up when the siren sounds. The fireman never says he will not go for intervention.
"When you help people, you don't think about yourself"
"I was never sorry to become a firefighter. The feeling of being able to help someone cannot be described. By helping someone, all my hard work and the effort of everyone involved in the intervention was repaid. But I was never afraid when it came to intervention. It is only when you return that you begin to think about what could possibly happen. The first is always that the injured should be helped as soon as possible. When you help people, you don't think about yourself. From all the interventions where I participated, led them, we always came back healthy. I don't remember my first intervention, but I remember it trembling. It happened last December, it was a technical intervention, to open an apartment on the Upper Hajdina. On my return to the Ptuj fire station, I was surprised by the firefighters who wrote my number 3000 on my locker. There is a lot of work to be done and the completion of interventions also requires an enormous amount. I study a lot, at Ig, in Pekra, within the framework of the local firefighting association, society and the like. This is of the utmost importance because today we no longer face classical interventions as we used to. Everything is much more demanding as it is about gases, smoke, hazardous substances. I'm also a firefighter instructor, " says sworn fireman Igor Fekonja.
There is too much paperwork
Firefighters are highly respected among people. We always worship them when we need them, but when something concrete needs to be done, there are still no real responses. Their status thus remains unsettled. The country treats them macho. "When we need it, we are the first, but we are not the first when it comes to resolving volunteer status, where many questions remain. There is too much paperwork too. After the intervention, we still have a lot to write about ending the intervention. It really takes us a long time. When I return, for example, at two o'clock in the morning from an intervention, I do not immediately go to the computer. However, I have to submit the papers on the completion of the intervention within five days. It might just be a bit of a stretch, " thinks Igor Fekonja. Even though the fire department takes up a lot of his free time, he still has plenty of time for hobbies. It all depends on how one spends his or her free time, he believes. Recently, she has been focusing on kynology. His children bought him a puppy, a German Shepherd, for his birthday. "At the moment, the puppy is just behind the fire department,Laughed Igor Fekonja.
Source: novice.svet24.si