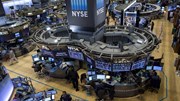 The Dow Jones ended up losing 1.69% to 21,052.53 points and the Standard & Poor's 500 devalued 1.51% to 2,488.65 points. For its part, the technological Nasdaq Composite fell 1.53% to settle at 7,373.08 points.
The accumulated result for the week was also negative for the three major Wall Street indices.
The March employment report came out worse than estimated, which weighed even more on investor sentiment.
The US lost 701,000 jobs last month, the Labor Market Statistics Office announced this Friday. The analysts' average estimate was that 150,000 jobs would disappear.
These figures put an end to a 10-year expansion of the North American labor market. The unemployment rate has thus risen to 4.4%, against a minimum of almost 50 years (3.5%) previously.
Yesterday it was also announced that the number of new claims for unemployment benefits in the USA amounted to 6.65 million in the week ended March 28, a historic record and that more than doubled the maximum of 3.28 million registered in the previous week .
In other words, in two weeks nearly 10 million new applications for unemployment benefits came in.
So where does the huge discrepancy between the number of new grant applications and the number of jobs lost last month come from? According to MarketWatch, "the US lost 701,000 jobs in March, but the real losses are much greater: at least 10 million jobs, at a time when the coronavirus is bringing the economy down."
"The high increase in the number of applications for unemployment benefits suggests that the unemployment rate – which went from 3.5% to 4.4% – has actually skyrocketed to 10%", he adds.
The data from the US Department of Labor were collected from a survey carried out with commercial establishments that was completed in the second week of March, just before the pandemic began to devastate the American economy, underlines the MarketWatch.
The labor market in the United States is expected to be under great pressure in the coming months, at a time when companies close and people stay at home to contain the spread of the new coronavirus, underlines CNN Business.
According to FactSet Research estimates, the profits of S&P 500 listed companies are expected to fall 7.3%, in aggregate, in the first quarter – compared to the values ​​of a year earlier.
The estimate for the second quarter is even worse, with analysts projecting an average fall of 15.1% in profits – which, in turn, will rival the worst performance of these companies since the decrease of 15.7% recorded in the third quarter of 2009 (the end of the Great Recession).
(news updated at 22:14)
Source: jornaldenegocios.pt