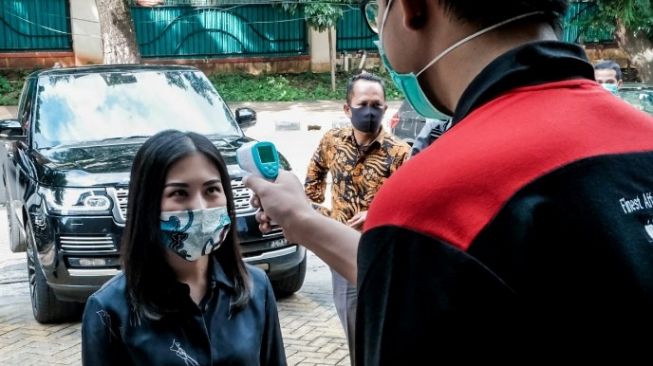 <! -
->
– Spokesperson for the Covid-19 Task Force Ministry of Tourism and Creative Economy (Kemenparekraf), Ari Juliano Gema, said that people in various regions in the country were enthusiastic and responded positively to the "Fabric Mask Movement" initiated for the purpose of suppressing the spread of Covid-19 in Indonesia.
The same thing was conveyed by Plt. Deputy of the Digital Economy and Creative Products Kemenparekraf, Josua Puji Mulia Simanjuntak, who also appreciated the enthusiasm of the community through social media pages related to the movement.
"The response can be seen from the many people who upload photos using cloth masks on their social media pages," Ari said, Jakarta, Monday (6/4/2020).
"Many responded. All levels of society and creative economy practitioners also responded positively and tagged into Instagram accounts @ kemen.parekraf and the Menparekraf account @wishnutama, "Said Josua, in a different place.
Josua explained, the use of cloth masks was considered sufficient for those who were healthy. With the increasing number of people using cloth masks, the availability of medical masks will tend to be easily obtained by those who are more in need, including medical personnel, ODP patients, PDP, and positive Covid-19.
"Masks made of cloth have been studied sufficiently to minimize direct contact with dust, viruses, and droplets outside the home, if it is unable to do work from home and must interact with many people," he said.
Josua also said, the government and the World Health Organization (WHO), now encourage everyone to wear masks when leaving the house, because it is able to prevent the spread of Corona Virus.
"The community continues to be encouraged to maintain health by using masks. We certainly see the state of the use of masks, both homemade and cloth masks, at the community level can help prevent the spread of Covid-19 "he said.
Previously, Kemenparekraf also invited creative economic actors, especially local designers to participate in the Fabric Mask Movement.
This movement is determined to produce 100,000 fabric masks which will be distributed to the public to suppress the spread of Covid-19 in Indonesia. The movement is intended for local fashion sub-actors or designers in Indonesia, which were initiated and driven by the Deputy for Digital Economy and the Ministry of Creative and Creative Products.
Source: suara.com