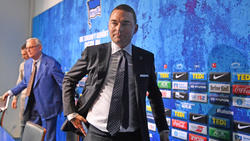 The mighty men of Bundesliga club Hertha BSC put an end to their collaboration with Jürgen Klinsmann. The "friend and confidante" of all things comes to the fore: Investor Lars Windhorst skillfully uses the spotlight to strengthen his position.
The room is small, the air is stuffy. Dozens of journalists crowd into the few seats.
The office of the Berlin Bundesliga club is already full an hour before the press conference in Hertha BSC's most awaited press conference starts. The media interest was not so great even at Jürgen Klinsmann's inaugural visit as a trainer.
A welcome stage for investor Lars Windhorst. In the following 45 minutes, he not only makes it clear how quickly a friendship can end when it comes to money, but also who will set the direction in the "Big City Club" in the future.
When the three powerful men enter the room, the ranking is kept formal: first President Werner Gegenbauer, then investor Lars Windhorst and sports director Michael Preetz.
But like on a podium, the winner is not in the left, but in the middle.
An investor emerges as the clear winner from the turmoil after the resignation of Klinsmann, who knows how to use the limelight for himself. The loser: Klinsmann.
Lars Windhorst invested more than 200 million euros in Hertha BSC
It is the first major appearance for Windhorst since he started investing 100 million euros with his company Tennor Holding in August last year.
The 43-year-old later increased his commitment by another 124 million euros, and now owns 49.9 percent of the club's shares.
And he also wants to see something for these investments: "There is no reason why Hertha BSC, as the club of the capital of Germany, should not be able to play in a leading position in Germany and Europe. There is simply no reason, so many can People be skeptical, "says Windhorst about his goal with Hertha.
He often emphasizes that. What some describe as megalomania is at least an ambitious plan. Because what Windhorst wants to achieve has never before been achieved in such a short time.
Jürgen Klinsmann's resignation just a small setback?
But there don't seem to be any small goals for Windhorst. The man from Rahden in East Westphalia looks back on 27 years of experience as a businessman, as he says.
At the age of 16 he founded his first company. He is an entrepreneurial prodigy and presents himself skillfully.
When asked whether disillusionment was spreading to him, he said: There were always setbacks, such as the surprising resignation of Klinsmann, whose manner was "completely unacceptable".
However, this is not something that throws a long-term commitment off the rail. Rather a pebble on the rocky road to Hertha success.
Once "friend and confidant", now "Herr Klinsmann"
Just a few weeks ago, Klinsmann is a "friend and confidante". He now seems to have deteriorated into an ex-employee.
A vicarious agent for Windhorst, one with "radiance", a world star who "would have attracted international investors".
The investor clearly regretted his resignation. But "Herr Klinsmann", as he calls his former friend, this status was conveyed in the media, was said in a short-circuit reaction: "You can do that as a teenager, but not as an adult in business life" – and thus ends the collaboration with Klinsmann with a resounding slap in the face.
Windhorst wants to make Hertha BSC big
Windhorst wants to make the club big. For this he expects everyone to have a "basic understanding and commitment". Then, if necessary, he would continue to invest to achieve the dream of the "Big City Club".
After this appearance at the latest, it is clear who has the reins in hand at Hertha. "As long as everyone runs in the same direction" – and he takes it at the word, Windhorst, Gegenbauer – "there is nothing standing in the way of a consistent goal that we have to achieve," he says.
Windhorst has nothing to determine formally in the club. Nevertheless: the sovereign spoke. And the boss has to deliver – "Big City Commitment".
Vivian Micks
Source: sport.de