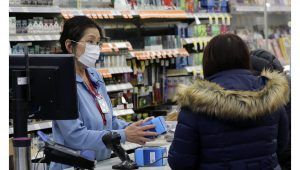 How long the coronavirus is on the packaging. The new coronavirus that evokes COVID-19 is mainly transmitted from one person to another. When someone infected sneezes or coughs, they spray drops of saliva into the air with the virus. A healthy person can breathe or swallow those drops.
The virus can also be transmitted from surfaces or objects that have the virus on them. If you touch them and then touch your face, the virus enters the body.
Coronavirus SARS-CoV-2 can withstand surfaces from a few hours to several days, depending on the material from which the respective surface is made, according to webmd.com.
How long the coronavirus is on the packaging
On metal (jewelry, door locks, cutlery) lasts up to 5 days.
On wood (furniture, floors) lasts 4 days.
On plastics (packaging, containers, bottles, chairs from the means of transport, lift buttons) it lasts 2-3 days.
On stainless steel (refrigerator, cookware, sink) lasts 2-3 days.
On the carton (boxes of transport) it lasts 24 hours.
On copper (coins) it lasts 4 hours.
On aluminum (juice boxes, cans) it lasts 2-8 hours.
On glass (glasses, bottles, windows, windows) lasts 5 days.
On ceramic surfaces (plates, cups) it lasts 5 days.
On paper it can last from a few hours to 5 days.
Food and water have not been shown to transmit the coronavirus, however, it is advisable to wash fruits and vegetables well with water and sponge before consuming them.
To avoid contamination, clean and disinfect the surfaces you come in contact with frequently.
Source: doctorulzilei.ro