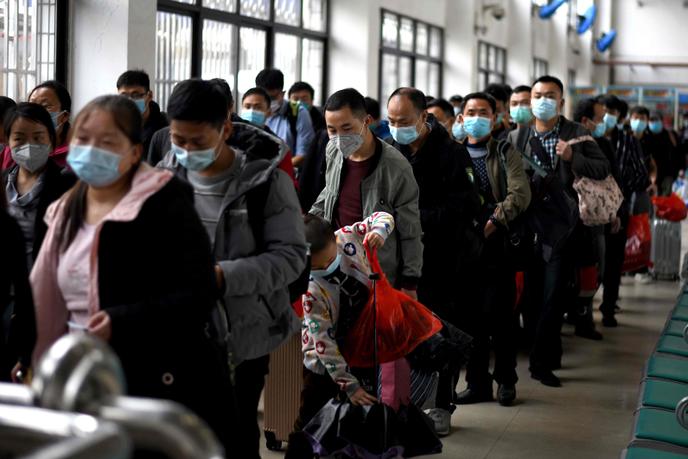 After two months of total containment, the province of Hubei, epicenter of Covid-19, is gradually reborn. As of Wednesday, March 25, the 56 million people in this province are again allowed to leave their homes, work and travel elsewhere in China, except for the 11 million people in Wuhan, the capital. They will not be allowed to travel until April 8. With the notable exception, also, of those who live in Beijing.
While residents of Hubei were able to reach the capital on Wednesday – their return has been widely publicized – many Pekingese who returned to their Hubei family for the Lunar New Year in late January are still not allowed to return. Both because the trains are taken by storm – the airlines are not reopened – and because the capital intends to control their returns.
These Pekingese, originally from Hubei, will have to spend around fifteen at their home in the capital before resuming all social life. Last restriction: to be able to leave Hubei – or to enter it – you must download an application with a QR code issued by the authorities indicating, with a color code, depending on the level of risk assumed by the holder, if he is allowed to move or not.
If a certain triumphalism was noticeable during the symbolic visit on March 10 of President Xi Jinping to Wuhan – the city where the Covid-19 killed at least 2,500 people – the authorities now seem more cautious. In fact, on Tuesday March 24, Wuhan had its first confirmed case of coronavirus in five days. 29-year-old gastroenterologist doctor admitted to hospital with mild fever and other symptoms, reports economic news site Caixin. He had treated an asymptomatic patient in a clinic on March 18, before that patient himself tested positive.
Asymptomatic cases not counted
The case of asymptomatic patients is increasingly debated in China, while the provinces hardly report any more cases of local transmission. Most cases are now imported from abroad. After having changed the calculation method several times, China decided in early February to exclude from its count positive cases which were asymptomatic. However, the World Health Organization defines cases of Covid-19 as those tested positive, regardless of their clinical situation. Many countries, including France, however, cannot afford to test asymptomatic patients.
Source: lemonde.fr