One Ice Lake, Four Atoms Tremont, Foveros laminated architecture, core area (final, not for all layers together) 82 mm², total enclosure area 144 mm². TDP 5-7 watts, depending on model.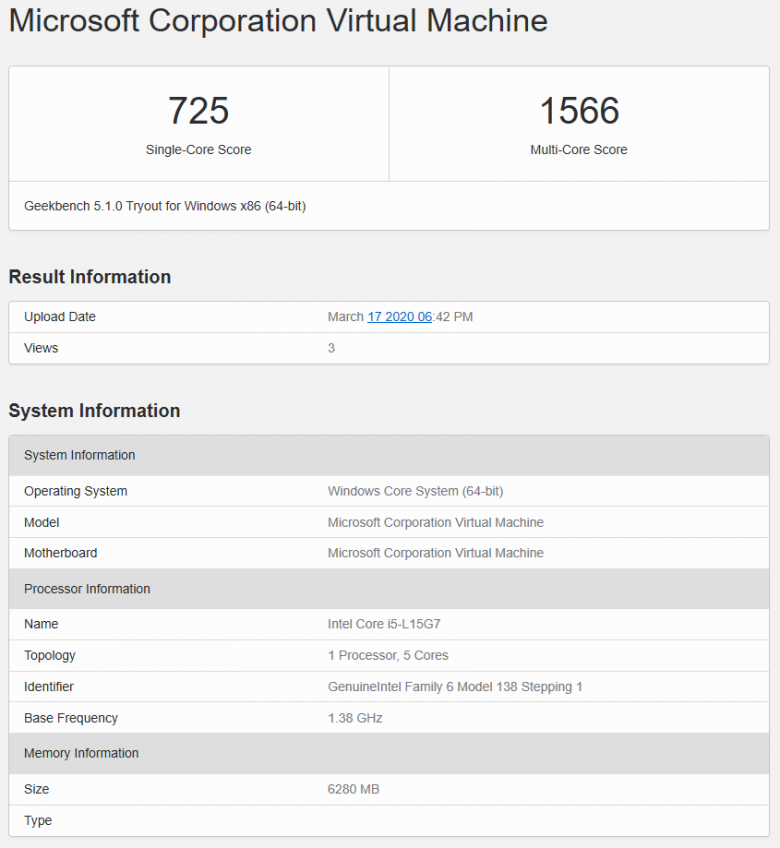 The GeekBench 5.1 processor test result shows a single core score of 725 points and a multi core 1566 points. As a result, we can see in the first place that the multicore score, for which all cores are responsible, is just slightly above the double of the single core score, for which a large nucleus is responsible Sunny Cove (Ice Lake).
GeekBench 5.1
Intel Lakefield
10nm (7W)
AMD Picasso
(15nm, 15W)
AMD Renoir
(10nm, 15W)
Single Core
725
726
1150
Multi Core
1566
2635
7047
The single-core performance of the most recent mobile product is the latest generation of AMD mobile APUs, Picasso. 15W Ryzen 7 3700U (see GeekBench database) achieves very similar single core performance, but nearly 70% higher multi-core performance. Picasso has 2 × higher TDP, on the other hand it is a polished architecture from 2017 produced on a 14nm derivative of the GlobalFoundries process, Lakefield is manufactured on Intel's 10nm process, which is near the 7nm TSMC process. The intergenerational reduction in consumption between these processes (14 / 12nm-> 10 / 7nm) is around 65%.
Thus, single core performance is not bad, but should be higher in view of the combination of architecture and process. Just a shrink Picasso (Zen +) to the same level process, while maintaining performance, should result in a lower TDP to a similar level. However, it can be accepted that the test piece is not a top model and the chip used in devices like the Lenovo X1 Fold for $ 2499 will offer more.
Multicore performance is a bit sadder. It is not yet clear whether the Windows scheduler is able to use all five cores at once, or uses only four Atoms in a multicore load. The resulting performance is taking into account the price range of the products where Lakefield heading, quite desperate. If we were to look for a comparison, we would have to use the cheapest mobile dual core Ryzen, 15W APU Ryzen 3 3200U. Everything else is faster. This Ryzen, however, is sold in products about 10 times cheaper.
There are already opinions in the discussions that up to Lakefield in the middle of the year arrives on the market, will be outdated. Because its TDP is only half (lower than one-third on lower models) than similar-generation products from the previous generation, it does not seem to be of particular interest in the 7nm product context at the performance / TDP / price ratio. It is thus possible to identify with the idea that Intel should not spare and could use two cores in the design Sunny Cove / Ice Lake.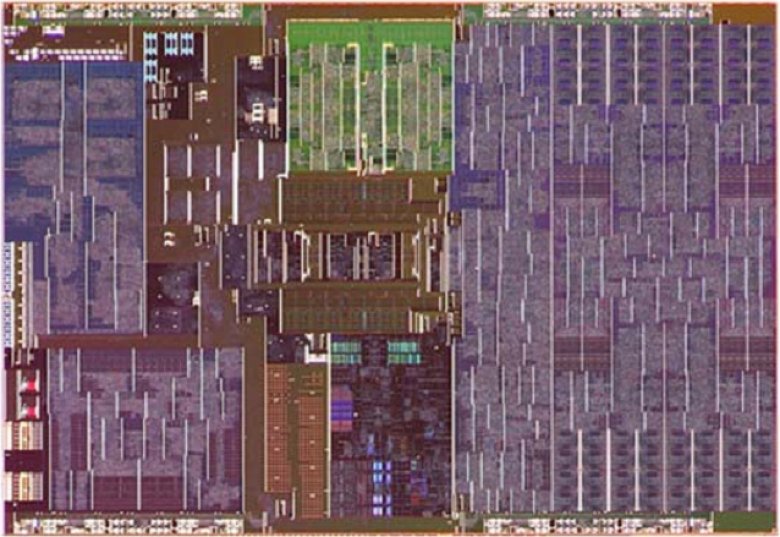 This would not increase the silicon surface extremely. According to the person who posted the image (above), the green part at the top center is the four Atomic nuclei and the dark purple at the bottom is the core. Sunny Cove. The large x86 core thus occupies an absolute minimum of silicon, about 5 mm² out of a total of 82 mm². The current configuration is quite sad that even if it for some incomprehensible reason to become the best seller and AMD had the need to respond to a similar solution, it would be enough to issue a chip equivalent to half a 7nm APU Renoir, which would achieve better performance in all aspects with a similar area and similar TDP. In addition, without the need for an exotic Foveros laminated housing, therefore at a more favorable price.
Source: diit.cz