Next Daily and Bflysoft publish big data analysis of major issues and comments on IT / Scientific news on Naver Portal for a week.<편집자>
From the 22nd to the 28th, the main keywords we looked at through major issues in the IT / science sector during the week were news of new product launches and reactions from global IT dinosaur companies such as Samsung Electronics and Apple. This was mentioned steadily and sporadic issues such as Netflix's net neutrality and game market growth last week were unfolded. The controversy over China Mobile Game's sensibility advertisements showed explosive public opinion despite the small number of articles.

Five major weekly issues in the IT / Science area selected based on the vocabulary frequency are as follows.
◇ Briefing on major issues
-UDC (Under Display Camera) smartphone competition
UDC (Under Display Camera), which is considered as the core new technology of new devices like the foldable phone, is attracting attention. By adopting UDC technology, the front camera can be hidden inside the screen, making it a 'true full screen'. Dinosaur IT companies from around the world, such as Xiaomi, Nokia, and Samsung Electronics, will demonstrate their willingness to apply UDC to new products, which will be the focus of competition in the smartphone market in the future. A lot of public relations articles have been released, and there have been reports of technology analysis.
-Gilead and Remdesivir discontinued clinical trials
While the development of the Corona 19 treatment and vaccine in the Pandemic City has continued to attract high attention, reports have been reported that the clinical trial (discontinued) of Remedyvir China has been reported. Gilead's Remdesivir is the most potent treatment for Corona 19 and was in clinical trials in the United States and China. News that the antiviral agent Remdesibir failed clinical trials in China was briefly released at the WHO, and Gilliard rebelled strongly, saying it was not a failure but a halt. However, the New York Stock Exchange and the like have already fallen sharply, reflecting the despair of market participants.
-Introduced Naver 'sound user-oriented settlement method'
The Naver 'Listen to Me' campaign was also one of the issues that received much attention. In Naver's music listening service platform 'Viiv', it announced that it will change the settlement method from the current 'proportional distribution' method to the 'user-oriented' method in the first half of the year. In the proportional distribution method, since the cost of the copyright is determined according to the total number of plays, the top chart music reads profits, whereas the user-oriented method determines the cost of the copyright fee based on the number of times played by the user regardless of the total number of plays. In the industry, there is an atmosphere that industry distortions such as hoarding or "Suming Gun", which plays a song without listening, will disappear.
-Dryer market craze
There were many promotional articles that clearly reflected market changes. In recent years, the drying function included in the washing machine became independent as the dryer's home appliance, and Samsung and LG's dryer competition continued. This time, they are competing with one concept. Samsung has already released an all-in-one laundry dryer called "Grande AI," and LG has settled it by revealing that it is launching a "LG Trom Wash Tower". The industry said that all-in-one products have advantages in energy efficiency, such as saving electricity and reducing drying time than using each function separately. Public opinion was also interested in the promotional article.
-China mobile game harmful advertising controversy
Advertising in China's mobile game, which was once controversial in February, became an issue again. It is a controversy that, as the use of games has increased due to corona19, youths are promoting stimulating marketing using blind spots in domestic law, such as not only the selection of advertisements, but also the contents of advertisements and actual games. The Game Management Committee issued a recommendation to the platform operator, but the situation was difficult because it could not be directly sanctioned at the head office in China, and similar issues were repeated.
◇ Major issues Big data analysis
Among the five major issues of the week, China's mobile game harmful advertising controversy was selected. China's mobile games have never been marketed with sensational advertisements or advertisements that differ from actual game contents. Article 34, Paragraph 1 of the Act on the Promotion of the Game Industry, 'Act to advertise or distribute advertisements of contents with different ratings from game contents' is subject to detection, but it was not possible to regulate it because there were no companies or agencies in Korea. . Then, this time, it was decided to block distribution, and it was possible to grasp the public opinion about sensational advertising and mobile game distribution regulation.
Related to the topic, Money S <"속옷 광고도 아니고"… 여전히 정신 못 차린 중국 게임사>, THIS IS GAME <'왕이되는자', '왕비의 맛' 같은 저질광고는 왜 사라지지 않고 계속 나올까?> A total of 662 comments were collected from the back.

In lexical terms, it is 'China', 'game' and 'advertising'. It can be said that discussions about Chinese game advertisements themselves are active, and that opinions about games and advertisements are being developed with China. Looking directly at the comments, discussions on "China" and "advertising" are active. The next most prominent vocabulary is 'Chansel' and 'Youtube'. In the previous discussion of 'China', anti-emotion and disgust expressions are revealed. The context of paying for the service appears.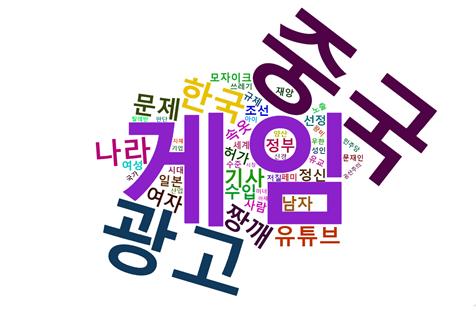 Looking at the semantic composition, the context becomes somewhat ambiguous when viewed with a simple vocabulary frequency. Comment The public opinion is divided into four groups, and the two groups showing conflict between genders have contradictory arguments. The context consisting of (women) (men) (underwear) (Taliban) consists of the content of whether (women) will even take up underwear (advertising), and is against the sanctions advertising sanctions, the article's argument. On the other hand, the axis of (femi) (regulation) (prohibition) shows the argument that 'I'm a feminist and don't say anything to such sensational advertisements', and it's inconsistent. Revealing.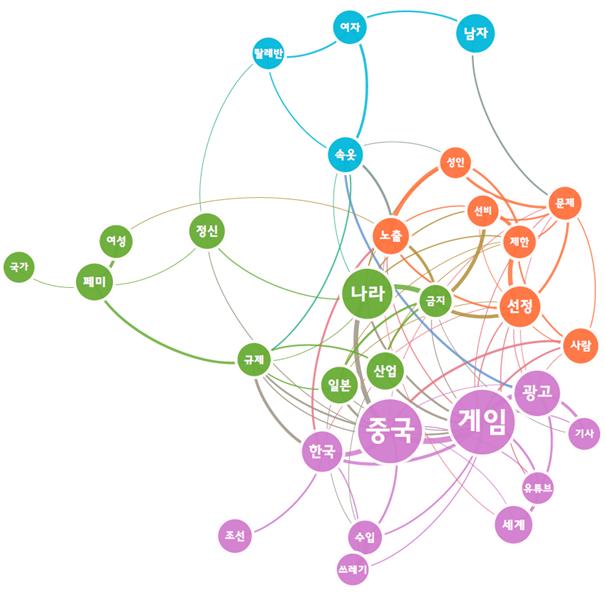 The other two axes (Import) (China) (Garbage) (Game) (Advertising) (YouTube) are accusing the quality of games imported from China, and (exposure) (restriction) (prepayment) The axis is the opinion that the selectivity revealed by the degree of advertisement is not a problem. The same advertisements are arguing that they are appropriate and inappropriate, but there are vigorous debates, but the opinions pointing to advertisements from Chinese-imported games are avoided by paying YouTube paid payments, or avoiding the fear of exposing children to the house. / It seems to be more powerful because it is accompanied by anxiety. In particular, compared to the reality that Chinese game companies are evading Korean laws and regulations, Korean games do not receive service permits in China, and the proportion of Chinese exports has fallen from 60.5% to 30% in 11 years. It is criticized along with this.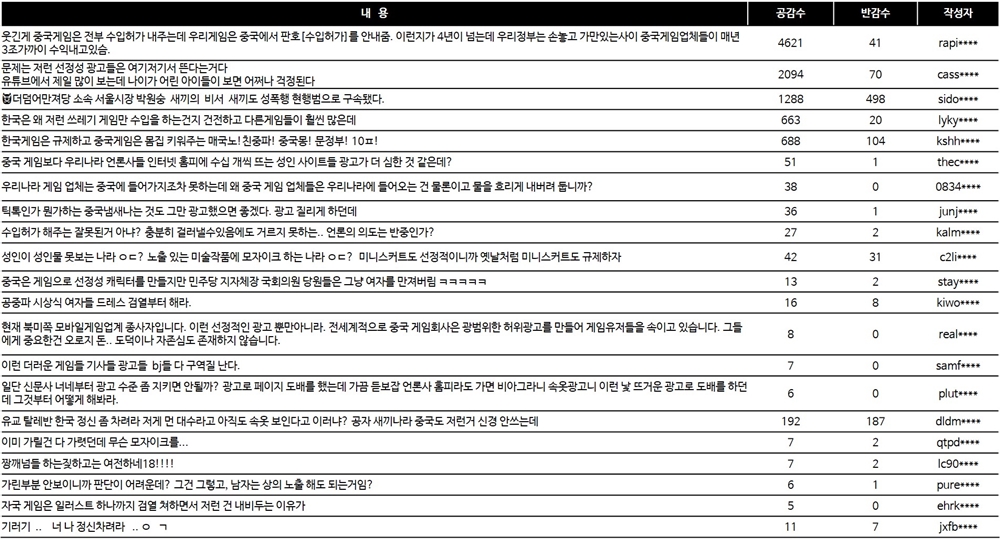 ◇ Advertise, pay if you don't want to see it?
The issue of sensibility of game ads that can be seen through major advertisements on major social media channels such as Facebook and Instagram, including YouTube, is not today. It has appeared as a regular since before.
Also, this phenomenon was not originally a game-specific problem. Freedom of expression exceeded this degree in all areas of advertising that could be packaged with results such as hits and inflow rates, anywhere in the field where regulations could be avoided. When the degree passed, regulations were inevitably applied, and the pattern of starting water level control was repeated.
However, it is difficult to expect such regulations in foreign SNS advertising platforms such as YouTube and Facebook. If it's a problem, just change the signboard and open it again. The penalty is still weak, and even now, some advertising and public relations industries are repeatedly fishing with titles or videos that are completely unrelated to the facts, or attracting aggro by netizens to produce more results.
No matter what the netizens' reaction to them, whether it's a nutcracker or a bad bitch, it's not a big deal for the agencies that created these ads. On the contrary, it is simply money for them. We pay attention only to the fact that more sensational and stimulating advertisements have attracted more people, and as a result, many people have watched and installed advertising games. Any ad just tells them their ability in numbers.
There are cases in which advertisements move people in a good direction like public service advertisements. However, today's SNS marketing technique, which only pursues purpose and results, seems to have created some weird monsters regardless of means and methods to produce results. Even in the changing world, these new monsters are praised as data analysts who are good at dealing with the new numbers of 'hits' and 'likes' recorded in the new concept Excel called SNS.
Is there a way to make a difference for those who see netizens just like the numbers recorded in Excel? If you think about it, you eventually come to the conclusion that a change must take place in an advertising platform that can impose direct sanctions. Unfortunately, they are not obliged to change the current advertising policy, nor are they interested in why.
Google ads that appear in news articles viewed in web browsers have at least a window to convey netizen's opinion. However, this is not the case with the YouTube mid-term ad. Other SNS such as Facebook, Instagram, and TickTalk are similar. However, there is only a way to use a paid service to block ads on some platforms, such as YouTube Premium.
As such, the platform operators are also showing a strange double behavior, advising users to pay services that block advertisements, while allowing advertisements that are important to them. It seems that they know what the insiders of SNS platform operators who want to realize profits are like living two houses without giving up on both. Perhaps, if they do not come to the conclusion that current advertising policy behavior is contrary to the pursuit of profits from the platform business, they will not try to change by taking the lead. For them, morality is the only pursuit of profit.
For this big data analysis, 'WIGO MON', a monitoring and analysis solution developed by Bflysoft based on artificial intelligence technology, was used. Data was extracted based on news that was frequently seen in the IT / science field among Naver News content affiliate media.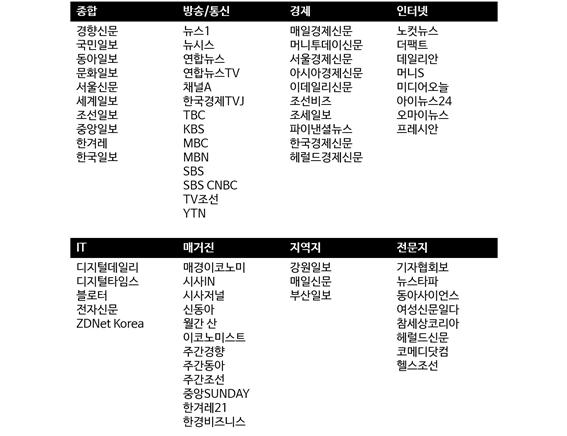 By Kim Kwang-hoe, reporter elian118@nextdaily.co.kr
Source: nextdaily.co.kr