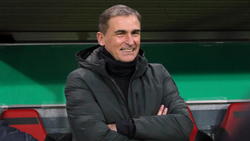 The German U21 national team coach Stefan Kuntz believes that the postponement of the Olympic Games in the coming year is the right one, despite the resulting uncertainties for his team.
"To be honest, I was relieved when I heard about Corona when IOC President Thomas Bach said that he wanted to follow the recommendations of the World Health Organization," said Kuntz to the ran.de portal.
The 57-year-old soccer coach should have participated in the Olympics in Tokyo in summer with a German U23 selection. The games are now slated to take place in 2021 due to the coronavirus pandemic.
According to Kuntz, the consequences of the relocation for his team are "not yet foreseeable". Originally, an EM would have been on the schedule for the German U21 if they qualified successfully in summer 2021.
When this tournament takes place is also open after the relocation of the European Football Championship in the coming year. "It is not yet clear which age groups are eligible to play in the two tournaments. You will have to wait for the decisions of the IOC and UEFA," said Kuntz about the plans for 2021.
Kuntz does not yet see the consequences of the corona crisis for football. "However, there will be big differences between the consequences for the 1st and 2nd, and then for the 3rd league," said the former CEO of 1. FC Kaiserslautern. "That is why, in my view, the solidarity that currently exists between the clubs must also show itself after the crisis."
Source: sport.de