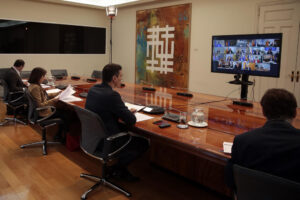 The Spanish government has decided to restrict for 30 days all non-essential air travel, to intervene in private senior citizens' residences and to expand the army's action to deal with the coronavirus. This was stated by the president of the executive, Pedro Sánchez, in a meeting after a meeting with the regional presidents to coordinate the response to the Covid-19 pandemic.
It was then that he announced that he would allocate resources to local authorities to foster the delivery of essential products, pharmaceuticals and home-based foods to prevent the elderly from leaving home. The measures also include the creation of a strategic reserve fund for medical supplies and medicines in case of a pandemic, to prevent the Spanish state from becoming 'devoid' again in the future as it has happened this time. He also said that the extension of the alarm status would be approved by the next council of ministers until April 11, which would have to ratify the congress of deputies, where they trusted to have sufficient support. In fact, he has called on the responsibility of all political groups in a time of 'war on the virus'.
He also informed that, firstly, he made available to the Autonomous Communities the facilities, human and material resources of private nursing homes to reduce the level of burden and danger of contagion in public centers. Last week it was decided that private healthcare should be taken. Secondly, 'non-essential' travel from third countries is restricted for thirty days. Those residents of the Schengen space who are traveling to the place of residence or performing essential tasks are exempt; that is, healthcare professionals, diplomats, carriers, flight personnel, or tourists who wish to return home.
As for the armed forces, he said they would "significantly" expand their actions by transferring patients from saturated hospital centers to hospitals with available resources, by air or land. According to him, they will provide logistical support for the transport of medical equipment from abroad and their subsequent distribution, will help to transport 'key personnel' to extra-peninsular territories and to repatriate Spaniards with difficulty returning.
Quim Torra, on the demands of stopping all non-essential activities addressed by presidents of the Generalitat, said that the measures taken by Spain were "at the forefront" of the European fight against the virus and that they were "very severe" . "The measures we impose are unmatched in Europe," he said. 'Italy banned travel to second homes yesterday and closed the parks and gardens, actions the Spanish state had decided a week earlier,' he said.
In order to 'be aware of the magnitude of economic slowdown', he said that the decline in public transport use ranged from 90% to 80% compared to last year. For example, on Friday the AVE between Madrid and Barcelona had only 27 passengers, when it normally has about 10,000.
In addition, Sánchez called for a 'great Marshall plan' to be articulated throughout the European Union, mobilizing resources as never before to open a process of social and economic reconstruction after the Covid-19 crisis has passed. However he emphasized that "extraordinary effort" could not be based solely on a state response, but must be European, which is why he called for a European unemployed fund and issuing bonds that would mutualize debt. . In fact, he has even suggested that the G-20 meet as soon as possible to coordinate international response.


Source: vilaweb.cat