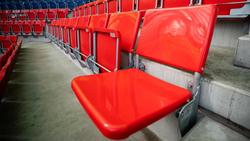 The Austrian Bundesliga can end its season until July 31 due to the coronavirus pandemic. The Presidium of the Football Association ÖFB approved a corresponding application from the league.
"The new time window creates new opportunities, but also challenges," said Bundesliga CEO Christian Ebenbauer in a message after the announcement by the ÖFB.
"In order to ensure legal certainty, the games of July require the approval of those players who are part of the 30-man squad and whose contracts expire," said the league boss. June 30th is always the day on which many employment relationships with players end. In the Austrian league there are still ten game days left in the master and qualification group.
Ebenbauer emphasized that issues such as loan agreements and transfer windows must also be observed in order to maintain athletic integrity. "Before we can make appointments for the current championship, it is first necessary whether and under what conditions the government permits team training and championship games."
What happens in a positive corona test?
The Minister of Sport Werner Kogler (Greens) gave the league back support to resume playing with ghost games.
The tricky question is what happens when a positive corona test is performed. An essential part of the concept that the league has submitted to the Ministry of Sport and Health is the possibility of isolating only the player concerned in this case.
This Thursday, according to the Austrian news agency "APA", there will be a meeting between the politicians and the Bundesliga to discuss possible improvements. "Whether the league resumes operations or not remains up to you," said Kogler.
Source: sport.de