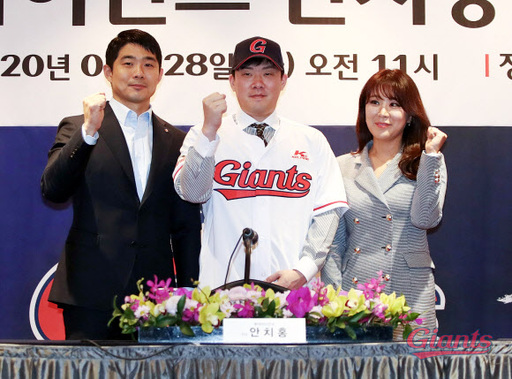 "I seem to have fixed it more than 20 times until the current contract comes out."
Lee Je-Rang, CEO of Rico Sports, who signed an agreement between Ahn Chi-hong (30) and Lotte Giants, said about the contract between Lotte and An Chi-hong.
Lee said at the ceremony of An Chi Hong's Lotte held at Lotte Hotel in Busan on the 28th, "Any form of contract has been made from the beginning."
An Chi Hong signed a free agent contract with Lotte on the 6th. The terms of the contract are two years, up to 2.6 billion won (deposit 142 million won, annual salary of 580 million won, option total 600 million won).
The contract also included a major league contract that is unfamiliar to domestic professional baseball. It is a " 2 + 2 '' clause that can be extended to a maximum of 3.1 billion won for two years under the agreement of the team and the player after two years. If the contract is extended, the contract will be 5.6 billion won for up to four years.
Ahn said, "An Ahn is a contract that needs to be evaluated again two years later, and I'm very nervous, too." "We have a lot of power to come up with ideas."
"In fact, the history of agents in Korean professional baseball is not long," said Lotte Sung Min-gyu. "Someone said that it took time because of the agent."
Sung said, "Negotiated many new ideas as we negotiated with agents as well as other agents. I think agent and team have to live together in order for the baseball world to go further. "
Lee, a former broadcast announcer and radio DJ, joined the world of agents in connection with Kim Hyun-soo (now LG Twins). Later, when Kim Hyun-soo entered the major leagues in 2015, he won a two-year, $ 7 million contract with the Baltimore Orioles.
Currently, there are a number of professional baseball players, including Park Byeong-ho, Seo Gun-chang (Lee Sang-wook Heroes), Park Gun-woo, Oh Jae-il, Hur Kyung-min (Lee Doosan Bears), Woo Kyu-min (Lee Samsung Lions), and Jung Yun-yun (SK Wyverns). In addition to baseball, customers from various sports such as soccer, esports, golf, and ice are also customers.
Choi Seung-Woo Online News Reporter loonytuna@segye.com
Photo = Newsis
(Ⓒ Segye Ilbo & Segye.com, All Rights Reserved)
Source: segye.com