LIG Nex1 signed a comprehensive business agreement with Sungwoo Engineering, a company specializing in drone and unmanned aircraft manufacturing, to expand the domestic drone industry base, and proceeds with future drone and unmanned aircraft technology development and new business cooperation in the defense and civilian fields.
LIG Nex1 (CEO Ji-Chan Kim) announced on the 29th that it has signed a 'New UAV Business Agreement' with key stakeholders such as Sungwoo Engineering (CEO Kim Seong-Nam) and representatives of both companies at the headquarters of Seongwoo Engineering in Cheongju-si, Chungbuk.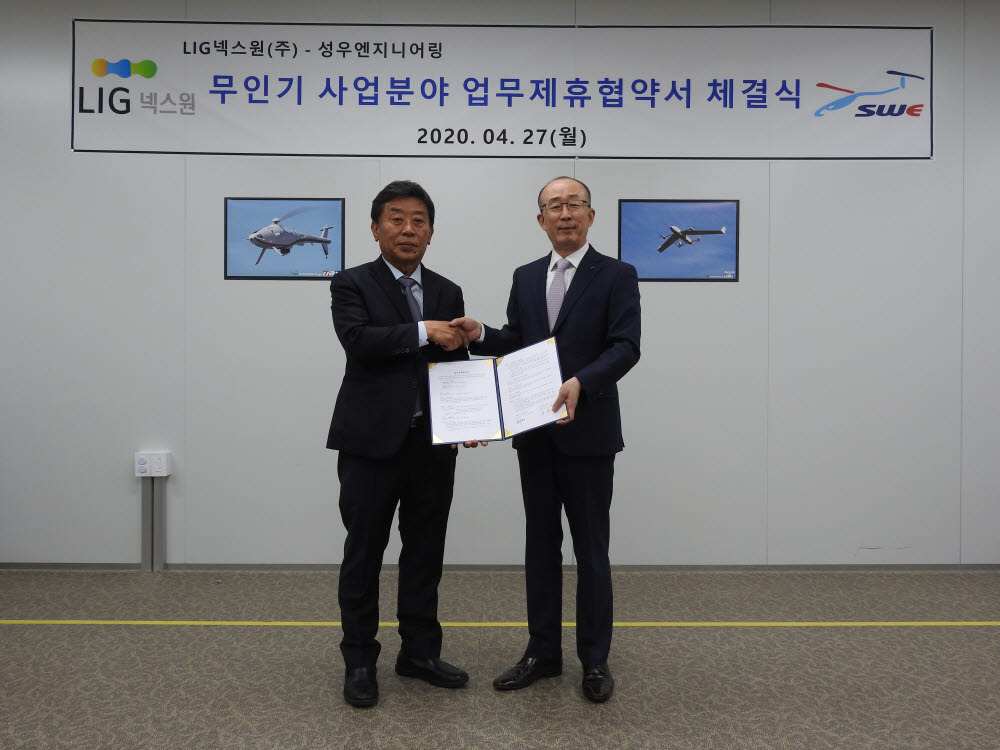 Through this agreement, LIG ​​Nex1 is in charge of 'system integration' in the drone and unmanned aircraft sector, and Sungwoo Engineering is in charge of 'aircraft'. In addition, various cooperative activities such as drone and unmanned aerial vehicle research and development, mass production and export are promoted.
The two companies expect to make synergies in the new drone and defense drone projects in the defense and civilian fields in the future by making the most of their capabilities and resources. LIG Nex1 and Sungwoo Engineering are continuing their cooperative relationship by jointly developing a multi-purpose unmanned helicopter through a civil-military combined technology development project led by the Civil Defense Cooperation Agency of the National Defense Science Institute.
Since its establishment in 1993, Sungwoo Engineering has specialized in aircraft reduction prototypes and drone production and test flights for 27 years. It is the first commercially available agricultural unmanned helicopter for agriculture, SWAN (SWAN, 40k unmanned helicopter), and REMO-H (120kg unmanned helicopter). The company exports drones to the United States, Australia and China. Currently, he is specialized in the production of drones and drones for military and industrial use in Korea.
LIG Nex1 has experience participating in the development of a number of UAV systems, such as the next corps and mid- and high-end UAVs hosted by the Defense Research Institute. The company will take charge of the system field in the drone and unmanned aircraft business, such as the military dronebot combat system, which will be progressed through the technology of the UAV system field.
President Kim Ji-chan of LIG Nex1 said, "We are dedicated to establishing a dedicated drone development team and business team in the company's drone field and making efforts to expand the industrial base in the drone and unmanned fields. , We will actively participate in various civilian drones and unmanned aerial vehicles as well as defense projects such as the dronebot combat system. "
Seongnam Kim, CEO of Sungwoo Engineering, said, "Since its foundation, we have been focusing on R & D in the unmanned aerial vehicle sector and have led drone and unmanned aircraft development. Said.
Staff Reporter Ahn Su-min smahn@etnews.com
Source: etnews.com