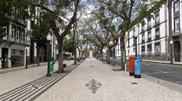 Madeira maintains for the fifth consecutive day the total of 86 cases of covid-19, with 43 recovered, the regional authorities said today, indicating that of the 43 active patients, one was hospitalized due to the worsening of his condition.
"This is a patient with a comorbidity, that is, with a basic disease that requires additional health care in the hospital context. This patient is stable," explained the vice president of the Institute of Health Administration (IASAÚDE ), Bruna Gouveia, in videoconference, in Funchal.
The remaining patients maintain "mild symptoms" and remain in isolation: 11 at home and 31 in a hotel.
"At the moment, we have 70 cases awaiting results of laboratory tests", indicated Bruna Gouveia.
Regarding the transmission chain identified in the parish of Câmara de Lobos, where a sanitary fence was installed, the head of IASAÚDE clarified that the number of associated positive cases is 31, seven of which are imported, following trips to the Lisbon regions and Tagus Valley and the north of the country, and 24 local transmission.
Regional health authorities have already carried out 503 tests on people related to this chain, identified since April 17, including health professionals who contacted them and the 105 users and employees of the nursing home near the Nova Cidade housing complex, where the contamination focus.
In this neighborhood, located near the center of Câmara de Lobos, around 600 people live, which are also being tested, and there are no more positive cases registered, a situation that will motivate the lifting of the sanitary fence, in force for a period of 15 days, until May 3.
"We do not think it is necessary to continue with this sanitary fence", affirmed the regional secretary of Health, Pedro Ramos, stressing, however, that "the covid-19 is not yet eradicated" from the Autonomous Region of Madeira.
The regional executive, from the PSD / CDS-PP coalition, scheduled a press conference for Thursday to announce new measures to resume economic activities, after the reopening of the extractive, manufacturing, civil construction and related industries on April 20.
Source: sabado.pt