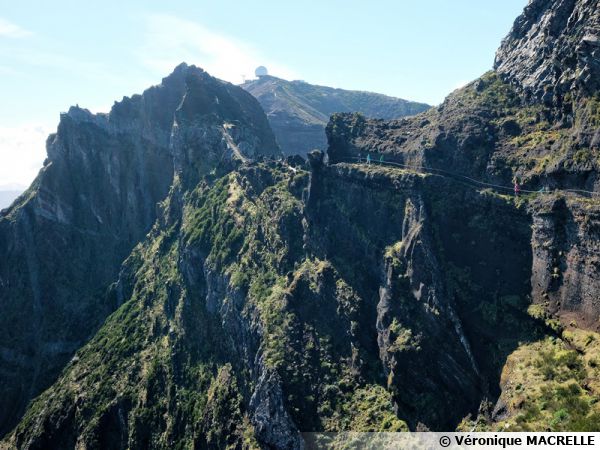 The hike between the 2 highest peaks in Madeira is extremely enjoyable, combining strong emotions and the end of the world atmosphere, while remaining completely safe. Leaving early in the morning allows you to better enjoy these sublime rugged landscapes dotted with endemic alpine plants.
La Vereda do pico do Areeiro PR1 is a particularly exciting alpine hike. The mountains are very steep and the rock, a gray basalt and a glowing pozzolan outcrop most of the time; a bright and abundant orange lichen adds color.
The PR1, perfectly signposted and laid out, makes it possible to walk from Pico de Areeiro to Pico de Ruivo, and even to continue beyond. It is completely secure and particularly spectacular when it follows a ridge, bordered by an abyss on each side or when it is dug on the side of a mountain. This course is not made for people prone to vertigo. An invigorating north wind, dominant and quite violent at times adds to the dramatic atmosphere of the ride. The hike is an alternation of descents and steep climbs, but without danger, because very often arranged in staircase. From all sides, the panorama is sublime, the rocks are almost naked, but here and there bear valiant alpine plants which soften this mineral landscape a little.
Among the endemic plants we recognize without difficulty:
Ranunculus cortusifolius, a big buttercup endemic with round leaves
Erysimum bicolor, a small wallflower with changing colors
Echium candicans, the superb shrub viper with blue candles
Saxifraga maderensis, saxifrage from Madeira
Aeonium glandulosum, the aeonium plateau
Aeonium glutinosum, with multiple thick rosettes
Polystichum falcinellum, a fern
Sinapidendron frutescens, a Brassicaceae
Aichryson divaricatum, a small Crassulaceae with hairless leaves
Anthyllis lemanniana, Fabaceae
Viola paradoxa, a little yellow saxicolous thought
Plantago arborescens ssp maderensis, the tree plantain
Ideritis candicans var. candicans, in really very white tufts
Sonchus pinnatus, hanging on the walls
Sonchus ustulatus, the magnificent shrubby dairy of Madeira
Carlina salicifolia by imposing bush and very different from our Carlina acaulis Alpes
umex bucephalophorus ssp. canadensis var. frutiscescens
After a spectacular descent, the path goes down into a tunnel of almost a kilometer before climbing up to Pico de Ruivo. On the climb, we walk through magnificent tree heather elderly with gnarled trunks (Erica arborea) and some broom.
The Pico do Areeiro 1818 m high is a place accessible to cars and coaches, therefore very touristy. Often, the Pico Areeiro, like the Pico Ruivo is in the clouds. You should plan to go there as soon as possible by choosing a day when the weather is clear. If you get there in the fog, better put it off to another day.
By starting the hike early in the morning, on the one hand we avoid most tourists who arrive by bus, and on the other hand, we are more likely to enjoy an unobstructed view, because frequently the peaks start to mist again from noon.
There are 11 km to Pico de Ruivo, estimated at 5:30 hrs walk, but you can always turn around halfway, especially before going up to the second peak if it is too long.
Recommended equipment
hiking shoes
additional sweater and rain and windproof clothing (sometimes 4 ° C in the morning up there!)
a headlamp for the tunnel
Source: aujardin.info